Why choose Bathrooms and More for all of your vanity furniture needs?
The Bathroom renovation process isn't an easy one given that there are thousands of companies out there each claiming to be the best of the best. Where should you get your bathroom furniture from? Who will offer you the best quality at the most reasonable prices? Who will offer me honest, un-biased and genuine help and advice throughout the whole process? It's a jungle out there and sometimes you just have to take a risk and go with your gut because ultimately every company will sell you the same old spiel about why they are a far-cry above the rest.
This is why the Bathrooms and More team simply allow their customers to do the talking for them – we let our results speak for us! Ultimately we are just another passionate company that is dedicated to providing our customers with fine quality, unique and reliable furniture at the best possible prices that we can afford to. And due to the fact that we are an entirely online based store we can afford to sell our products that little bit cheaper as we don't have the additional outgoing of showroom and store space.
We offer a 14 day money back guarantee on all of our products and additionally: *free delivery on all orders! (subject to post code) the fact is that we give it our all every single day. You can speak to our friendly team and we will always endeavour to offer you sound advice and as much help as we possibly can. Our ethos is to treat our customers the way in which we want to be treated and to provide quality furniture that is designed to not only look aesthetically stunning; but also to stand the test of time.
Simplicity does not always mean poor quality – check out our fine bathroom basins
Take this Grey Marble Bathroom Basin Tap & Plug for example: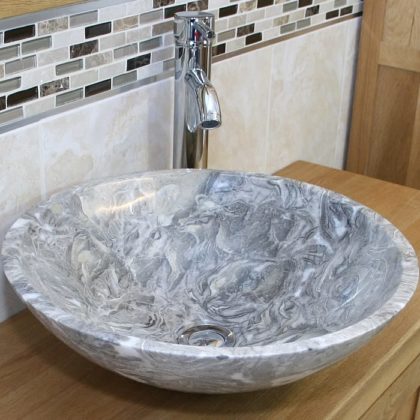 Not only does this stunning bathroom basin look absolutely gorgeous, but it is also durable, practical and incredibly easy to maintain. While it is heavy duty it certainly boasts a certain air of elegance and flow – the perfect addition to your bathroom renovation. Quality basins are not easy to find, however at Bathrooms and More we have plenty of items much like this in our wide range of products. Be sure to have a browse through our wares and see if you can find something that suits your taste and desires!
Or perhaps you would like to stick to something a little more traditional for example this charming Ceramic Square Bathroom Basin Tap & Plug Set: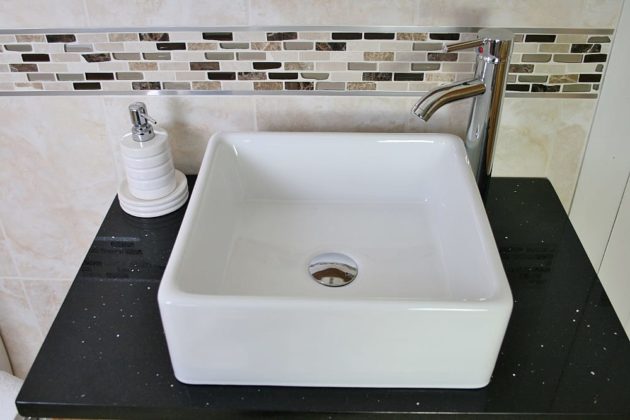 Practical, durable, sterile, solid and reliable; all the while retaining a certain aesthetic charm that most average ceramic basins lack. Ceramic is often thought of as being rather boring given that it is typically used in most bathrooms and has been for many years, however Bathrooms and More stock a wide range of quality ceramics that truly stand out from the rest of the crowd – don't miss out! Make the most of our great savings today and enjoy the benefits of our free delivery system.