Bathrooms and More are dedicated to helping you improve the quality of your home.
Bathrooms and More are proud providers of high quality, well-designed and aesthetically impressive bathroom furniture and vanity accessories though there is much more to this family run business than meets the eye. In fact, while BMS do focus predominantly on the bathroom, they actually have an incredible range of products that are suited for other areas in the house – many of these items of furniture are interchangeable too, and can be used for a number of different purposes.
Take for example this stunning Heyford rough sawn Oak lamp table: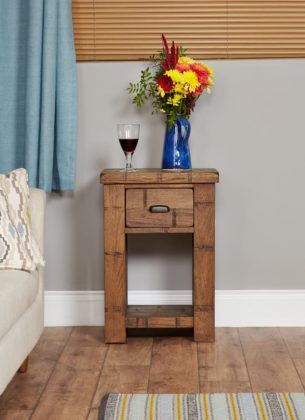 This piece of furniture is an eye-catching and expertly crafted item that is made up of quality rough sawn oak and hardwood panels rendering it both sturdy and reliable.
The drawer in this piece has been made using dovetail joints and the overall internal dimensions are: H13 x W22.5 x D27. The panelled sides add a unique design detail, which truly complete this wonderfully constructed table – sealed with a resilient satin lacquer finish that is hardwearing while emphasising the gorgeous oak grain.
Such an elegant and yet simplistic piece of furniture is perfect for a bedside table with room for your personal belongings in the drawer and a top space for your bedside lamp. However, the thing that really makes this item so desirable is that it could easily double up as a lounge-side table in your front room or living area. It is as beautiful as it is practical and to make it even easier for you there is absolutely no assembly required; most of our items are solidly constructed pieces of furniture.
As part of the same Heyford Rough Sawn Oak range there is a beautiful 'Tallboy' 6 drawer set that is also a rather versatile piece that can be featured in the bedroom, your living area or even a home office perhaps.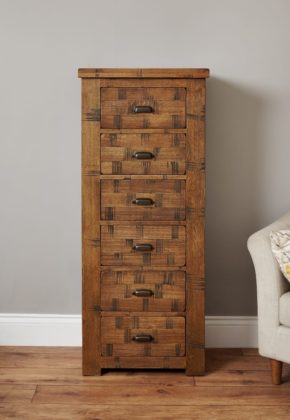 It is the perfect feature piece with ample storage space! Such a wonderful item of furniture could even stand in your hallway as a great access point for all of your essentials that you want to keep safe, organised and close at hand. Made with the same rough sawn oak and hardwood as the previously mentioned Lamp Table, this heavy duty and resilient piece will undoubtedly breathe an air of beauty, class and refinement into your home – It's overall dimensions are: H130 x W55 x D35 cm, while the internal drawer space equates to: H15 x W32 x D26.5.
We're not all about Bathrooms and Basins – there is more to BMS than meets the eye!
So it's not all taps and basins at BMS! Bathrooms and More are simply passionate about helping their customers improve the quality of their homes. BMS are proud providers of finely crafted furniture that can be used throughout the home; whether that is the bathroom, bedroom, hallway, living room or even the home office. Whatever it is that you are looking for, for your home: BMS will surely have something suitable to accommodate you.