We have some of the finest quality oak furniture for your new baby's bedroom
Being a family run business Bathrooms and More have always taken great pride in providing their customers with impeccable, top quality furniture in order to help turn houses into family homes. While the main focus of our business has always been on bathroom furniture, vanities and wash basins we also have a wealth of other wonderful furniture for the home.
The team at Bathrooms and More are all about family and building beautiful homes and so we have a wonderful range of children's furniture that is simply perfect for young families. Check out this expertly crafted Amelie Oak Cot-Bed for example: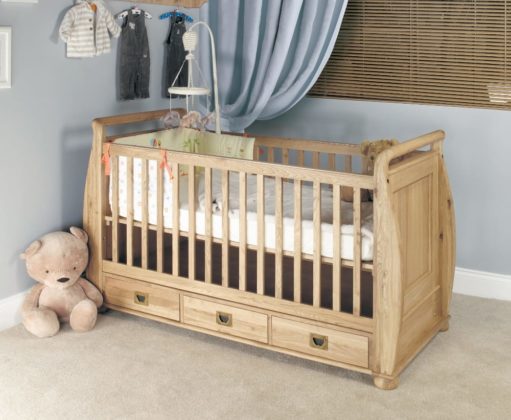 This delightful piece of furniture is constructed using mostly solid oak with some carefully selected veneers and is extremely versatile. It converts easily into a sleigh bed or day bed and comes complete with three convenient drawers at the bottom. These can be used for storing any essentials such as nappies, spare dummies, blankets and other bits and bobs that you will need close at hand.
The base of the piece is cot adjustable and can be set at three different heights and the rails are fitted with teething strips which often have to be purchased separately to most cots. There is a small amount of assembly required though it will be totally worth it once you have this stunning and practical piece of furniture set up! The perfect, safe environment for your new baby to sleep in and you can relax knowing that your child is sleeping soundly.
Mix and match with our wide selection of quality oak children's furniture
In addition to this piece you can add this handy Amelie Oak Cot-Top Baby Changer: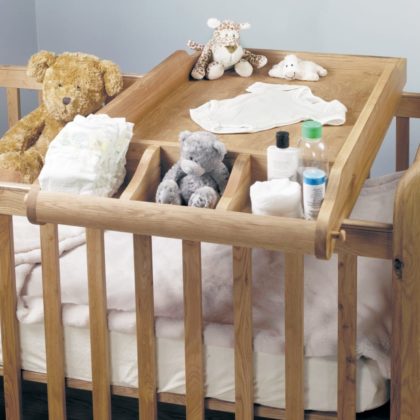 This piece if both practical and aesthetically stunning and is perfect for when you need to give your baby a fresh nappy before sending them to sleep! It can be placed conveniently over the cot and can be easily removed once you've finished using it.
Like the cot, this piece is made up mostly of solid oak and again, some carefully selected veneers. The unit is made up of four components: one large baby changer and three smaller compartments that are used for storing your essentials. It is fitted with some convenient hanging pegs which make life easier giving you somewhere to hang your nappy bags while changing. It is designed to fit perfectly with our Amelie oak Cot-Bed!
Look out for our other Amelie children's furniture! We have a wide selection of high quality items in stock and they are all crafted to an exceptional level making them a worthwhile investment. You can kit your children's bedrooms out with some of the finest and most tasteful furniture on the market. We pride ourselves in having a keen eye for style and quality so you can rest assured that you're in safe hands.
So what are you waiting for? Head over to our products page and have a browse! There will almost certainly be something there for you. You will fall in love with our adorable range of furniture.