Much more than just Bathroom furniture; spice up your entire home!
It's all in the name: Bathrooms and More Store is not only one of the leading Bathroom furniture suppliers in the UK, but also a great contender when it comes to a number of other quality furniture too. There is a wide variety of things for you to choose from so why not have a browse through our selection and see if there is something here to your liking.
Just because you've finished with your Bathroom renovation project it's not to say that there is nothing more that Bathrooms and More can do for you. In fact if you are happy with the quality of our Bathroom vanities then you will absolutely adore the rest of our impeccable range. We have everything from Shoe-racks, Bookshelves, Wall art, Bed-side tables and even Wine racks!
While the bathroom is arguably one of the most important rooms in the house, it is also important to invest some time into improving the other rooms in your house; particularly those in which you spend much of your time, for example the lounge or living area.
Quality furniture perfect for jazzing up the living area in your home
Take this delightful Mobel Solid Oak Four Drawer Television Cabinet for example:
This truly beautiful four drawer television cabinet is carefully constructed from 100% solid oak hard wood and is designed for the highest level of quality, functionality and personality. There are two spacious shelving areas for your devices such as a digital television box, a gaming console or your Blueray player. There are also an additional set of four drawers that are perfect for storing your DVD's or any other essentials that you'd like to keep tidied away in a convenient, easy to reach location.
For those of you who have gone for the wall-mounted television option then perhaps you'd prefer something similar to this magnificent piece: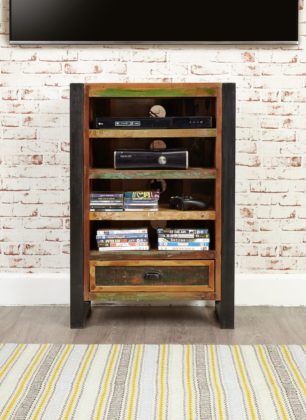 This stunning Urban Chic Entertainment Cabinet is the perfect example of rustic charm fused with a unique solidarity. With four ample shelving alcoves for all of your electronic devices that each feature pre-drilled holes in the back for ease of keeping all of those pesky wires tidy and in order. This amazing piece is made entirely from salvaged and reclaimed wood from old buildings native to Southern India; aged between 50 and 150 years old! This is more than just a piece of furniture – this is history reformed into modern art.
And finally for those who would prefer something with a little more class we have this wonderful Mobel Oak Multi-Drawer DVD/CD Storage Chest: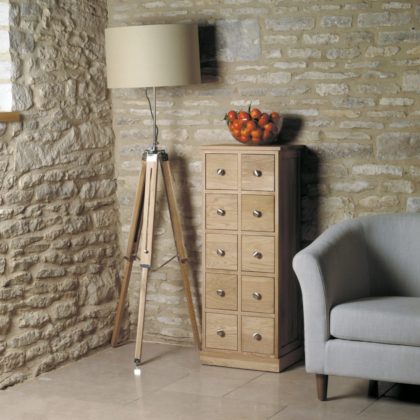 This is a superb and contemporary multi-purpose Oak chest of drawers that is perfect for storing all of your CD's, DVD's and other bits that you want to keep out of sight though close to hand. This piece can be used for almost anything! Whether it is for storing up to 300 CD's in your living area, or being used in your bathroom to hold all of your toiletries – either way you won't be dissatisfied with this great value for money.