Treat Her to a Bath Spa Day…at Home
Are you struggling to think of ideas for your partner's upcoming birthday? Perhaps you're a little strapped for cash and would like to get creative with your gift giving this year? Well, how about treating them to a Spa Day? Only without having to pay out of the nose for it! What if I told you that there was a way in which you could replicate the perfect, relaxing Spa Day for your partner in your very own home?
It's a fairly straightforward process, so read on further and learn how you can bag the mother-lode in brownie points with your better half!
Step 1: So where to begin? Well, first of all you need to clear out all of the clutter and crap! There is nothing quite as off-putting when you're trying to relax than a room full of mess. If you don't have enough storage in your bathroom to tuck things away out of sight (then you should have installed more vanity units), you could always move everything not vital for the Spa Day out of the bathroom temporarily.
Step 2: Now thoroughly scrub the bathroom from top to bottom. By doing this you're essentially killing two birds with one stone; as not only are you treating your partner to the perfect day, but you're likely giving your bathroom a well needed makeover as well.
Step 3: Neatly fold some fresh towels and place them within reach of the bath, alongside a fresh dressing gown (if your partner doesn't have one, buy one – this is an essential step) – Now it's time to set the scene.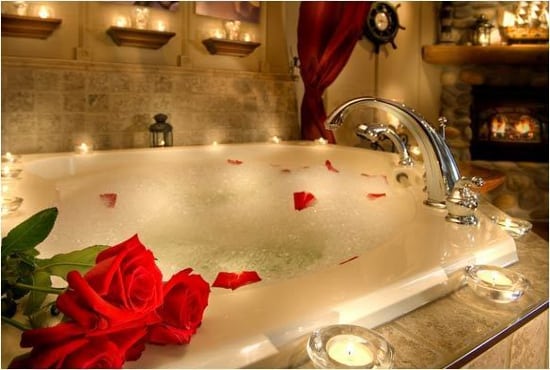 Step 4: Of course no relaxing bath is complete without a number of scattered candles around the room. Ensure that the general lighting in the room is time, with a flickering glow that creates a warming glow throughout. In order to really capture the perfect scene of tranquillity then you should either light some incense or give the bathroom a light spritz with some fragrance.
Step 5: Now it is time for your partner to climb into the beautiful hot bath that you have drawn for them. If you've done it properly you'll have scattered some rose petals and added her favourite bath salts to the water. And of course, no relaxing bath is truly complete without a playlist of her favourite music subtly playing in the background.
Step 6: Pour her a glass of champagne, leave her the bottle on ice and get the hell out of there! Want to really earn some extra points? Leave her a bell so that she can summon you on demand, after all; it's her day, right?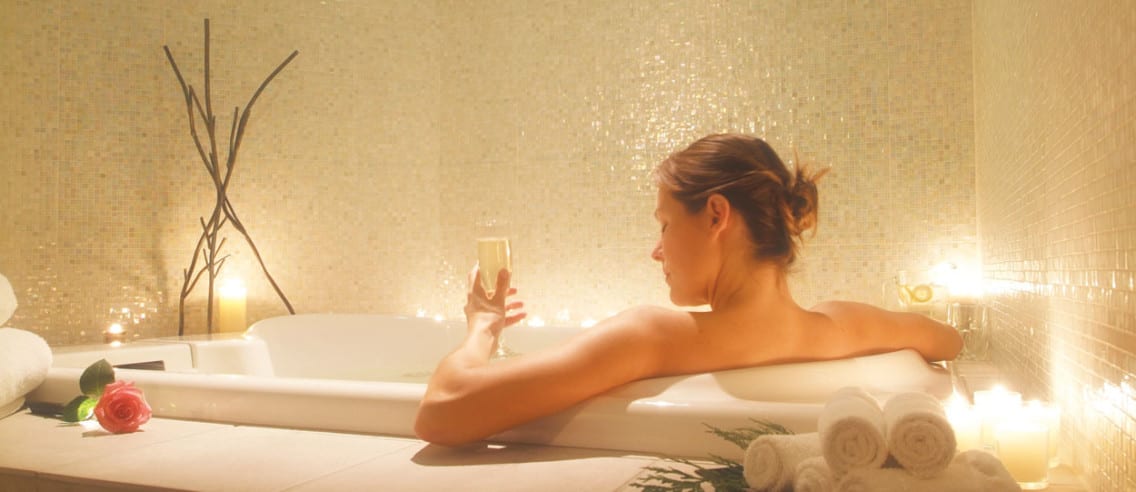 Step 7: Next up you're going to prepare her a natural mud mask, once it's prepared you can head back into the bathroom and apply this to her face. (Already you can imagine how jealous her friends are going to be, you're awesome buddy – Keep it up!)
Using half a cup of cosmetic clay, add several teaspoon of water and mix up the thick paste.
You can then apply this to your partners face.
Leave her in peace for ten minutes or so, then come back in with a wash bowl and gently wash it off. (You wouldn't want to dirty the bathwater just yet)
Step 8: Now for the important part: Exfoliation. With a loofah, scrub all over her body using circular motions towards the heart. This will improve her circulation, reduce cellulite and successfully get rid of the dry, dead skin on her body. Savour this intimate moment and let her know how important she is to you.
Step 9: Allow her some time to dry herself off and moisturise. While she's doing this you should prepare a bowl of hot water, perhaps with some honey and lemon. When she's ready, have her hold her head over the bowl and drape a towel over her so that she can enjoy the benefits of a few minutes steaming her face. This is essential for opening up her pores and nourishing her skin.
Step 10: Take the evening wherever you see fit. Perhaps an intimate massage with a couple of cucumber slices over her eyes? Her favourite movie, cuddled up on the sofa? A delicious, healthy, home cooked meal? Use your imagination!