How to Successfully Style up your Clinical, White Bathroom
The frozen white is among the most popular of styles that people tend to adopt when renovating their bathrooms; though it can often look quite clinical and uninviting. But don't worry, with a bit of dedication and a little work it is very easy to spice up the space and make it feel much more relaxing.
Below you will find a few tips on how you can jazz things up a bit:
Just a Splash of Colour
A fully furnished bathroom suite can end up looking rather boring when you consider the fact that you've got a white bath, a white shower and sink, a white toilet and more than likely white vanity units too. In order to breathe a little life into your bathroom you should grab some funky, colourful towels, bright bathmats and other accessories that take your fancy. This will ultimately really stand out and allows you plenty of room for customisation.
You can even try different coloured tiles and patterns. While various shades of greys would work best in this situation, you could also get away with trying bolder colours such as ice blue or a pale green.
Light it up
Another easy and affordable way to add personality to your plain white bathroom is buy implementing some clever lighting.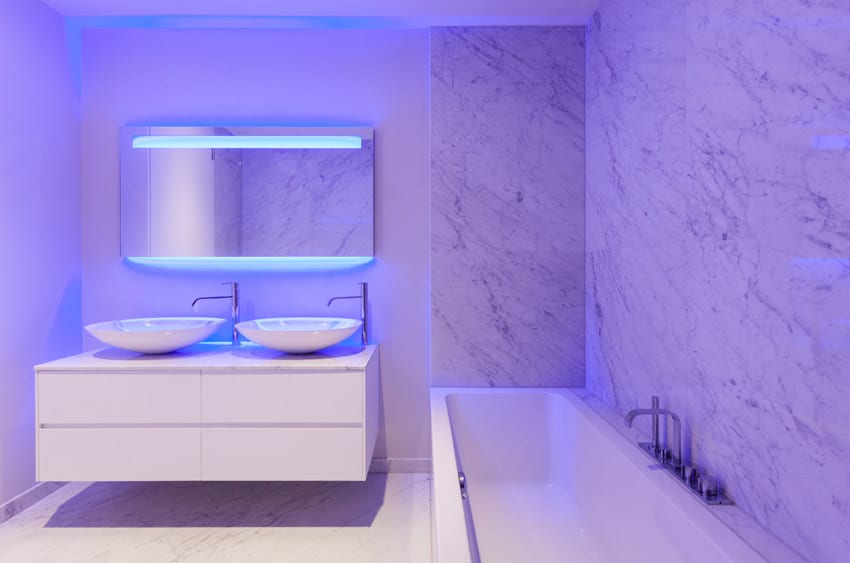 Something as simple as adding neon lights to your bathroom can really help to create a perfect, relaxing atmosphere.
Add a little bit of Green
If you ask me, every single bathroom should have plenty of foliage! There is nothing more soothing than walking into your bathroom after a long, hard day and being greeted with a spattering of natural greens. There is a wide variety of different plants that are suitable for the humidity of a bathroom environment so you are certainly unrestricted in that department.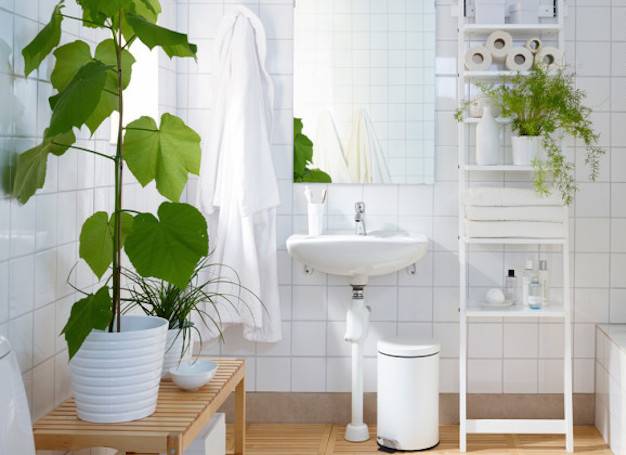 If you're worried about the maintenance that comes with owning plants in your home, then you can by all means purchase fake plants. These will ultimately look at feel the part, only you don't have to worry about keeping them alive! But my advice is to opt for some genuine, natural plants and keep your home oxygenated – they're great for the soul.
Mix and Match
If you want to keep it simple, without overdoing the colour in your bathroom then you can swap out a few bits and bobs instead. Why not change your toilet seat for something a bit darker rather than the traditional white? This will offset the overwhelming flow of clinical white throughout your bathroom and break things up a bit.
Get rid of your Clutter
Again, for those of you who don't want to go over the top on colour and plan to keep things quite minimalist then be sure to do away with your clutter. Purchasing the right vanity unit is a great way to do this! If you plan carefully before the renovation process you can account for much of your necessary items and keep them tucked away neatly. This will keep your bathroom looking clean and beautiful without having to change or add anything too drastic.