Check out our stunning range of double vanity units and declutter your bathroom!
Being used to living on my own and enjoying having my own space I'm sure you can imagine that when my girlfriend moved in it was a real shock to the system – as my bathroom went from being tidy and organised to a chaotic spread of shampoo bottles, make-up bags, cotton wool buds, hair clips, loofahs and perfumes!
My wash basin went from being easily accessible to an obstacle course over-night and I was not at all satisfied. Sure it's great having her around all of the time but having to constantly search for my toothbrush underneath a mountain of various eye shadows and moisturisers was something that I didn't want to contend with of a morning when I've just forced myself out of bed for work.
If you find that you can relate to this then I have the perfect solution to your problem! You need to check out Bathrooms and more's wonderful range of stylish, stone top, double vanity units.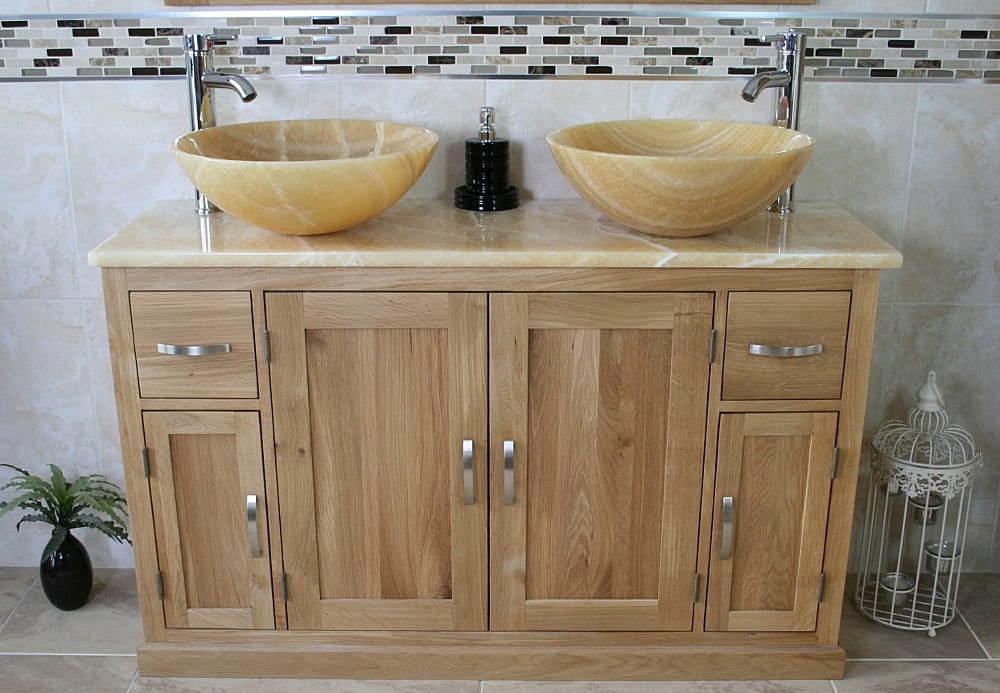 We have a vast selection of various styles and designs for you to choose from all of which have a significant number of impressive features that will add value to your bathroom. These "his and hers" vanity units are perfect for keeping all of your essentials stored away neatly and conveniently so that you no longer have to squabble over who is taking up the most space!
Naturally you will notice that overtime your side of the cabinet will slowly start filling up with her "essentials", though at least for the most part you will have a relatively clutter free counter to let your mind at ease.
Not only do these incredible, top quality vanity units allow you the extra storage space that you desire but it will also allow you both to brush your teeth together of a morning or evening without fighting over who spits into the bowl first! You'll have your own!!!
At Bathrooms and more we pride ourselves in providing our customers with a selection of top quality products that can fit all manner of styles, tastes and budgets! Get browsing through our range of incredible items and you will be sure to find something to suit your tastes; or rather, hers!
We have strived to put together a selection of vanity units and stone top combinations in order to cater to the various styles and designs that you may wish to go for. From golden onyx, to black ceramic, white marble and sandy travertine – once you've decided on your colour scheme you can make your purchase and enjoy the fruits of our free home delivery service. It doesn't get much better than that!