A Closer Look at our Urban Chic Range of Home Furniture; Stylish, Trendy & Modern
Furnishing your home is one of those decisions that require a fair amount more care and consideration than you'd have otherwise anticipated. Each item has to be the right style, the correct size; even the materials used play a huge part in the decision process. Then of course you have to worry about cost, since decorating your home isn't exactly the cheapest of ventures once you've totalled everything up.
The first and most important step of course, is to settle on a décor style. Once you've done this it will make your life a significant amount easier when it comes to selecting the right furniture. Some people may do this the other way around, as you could well fall in love with a particular sofa and simply have to have it – this way you end up decorating your home based around one item. It may sound crazy, but it's definitely not uncommon.
If you are looking to create more of a unique, modern and retro vibe in your home then you will almost certainly adore this Alcove Bookcase from our impressive Urban Chic range.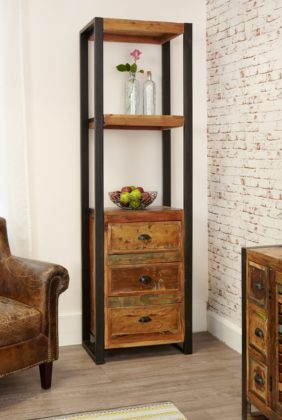 This piece is a unique and contemporary alcove bookcase that comes complete with drawers. It is part of the exclusive Urban Chic range which is made using reclaimed wood that is salvaged from old boats and buildings in Southern India – largely from areas such as Rajasthan, Gujarat and Maharashtra.
What makes this piece so interesting is that the wood that is used to make these items is aged between 50 and 150 years old. Each item is carefully assembled by skilled craftsmen that are expert in producing such colourful and interesting furniture. This is what makes each item so wonderful; the fact that each piece in the range is hand finishing using the blend of reclaimed timbers. You can rest assured that you furniture is genuinely and truly different!
The wood is finished with a resilient satin lacquer which is hardwearing yet emphasises the beautiful colour and character in the timber.
The metal outer frame is made from steel, which gives the bookcase a truly fantastic urban edge, whilst offering fantastic structural rigidity. The solid iron handles complement this piece beautifully, but don't worry; it is a solidly constructed piece of furniture that requires absolutely no assembly whatsoever.
There are two fixed shelves and an additional 'open' shelf at the very top; this allows you plenty of space to store your books or display favoured items. The overall dimensions of the bookcase are H200 x W60 x D40 cm. The lower shelf is H46, the higher shelf is H44. The width and depth of both shelves are W50 x D40 cm. Three drawers at the base of the bookcase provide useful additional storage – The internal dimensions of the drawers are H23 x W46.5 x D33 cm.
You can expect nothing left an exceptional build quality! These items are truly designed to last a lifetime. And if that isn't enough to sell you on this beautiful piece of furniture then this certainly will: As the large majority of the wood used on this item is reclaimed, this piece of furniture is highly environmentally friendly. You can do your bit for the environment, whilst purchasing a stunning and trendy item for your home.