Our Urban Chic Console Table will complete the rustic look in your home
There are many ways for you to make your home stand out of the rest; kitting your home out with modern and trendy furniture being one of them. We have a unique range of furniture called Urban Chic which boasts a gorgeous, rustic and industrial vibe that will most definitely aid in this venture.
Many people favour the traditional, oak style furniture which can be found in plenty of homes, though if you want to try something a little bit different then this range is definitely for you. While Oak furniture is arguably among the most beautiful, there is something unique and exciting about these items.
Check out this Urban Chic Console Table for example: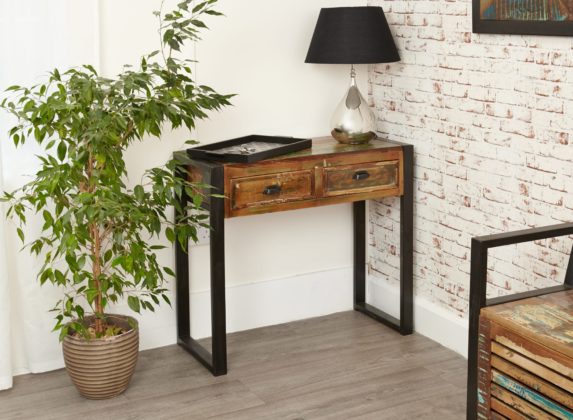 This incredibly stylish piece of furniture is made using reclaimed wood that is salvaged from old buildings and boats from Southern India, predominantly in Gurajat, Maharashtra and Rajasthan.
The wood used is typically aged between 50 and 150 years old which is what gives these items of furniture such a unique and contemporary look. The wood is finished off with a resilient satin lacquer which is not only hardwearing, but it also emphasise its beautiful colour and the character of the timbers.
Not only that but the fact that salvaged wood is used and recycled to make these items adds to the attractant because of the environmentally friendly factor – so you can you purchase a stunning and entirely unique piece of furniture while doing your part for the environment at the same time!
This console table in particular is a solidly constructed item of furniture that is assembled by skilled craftsmen. It requires absolutely no assembly at all as well, so you can simply have the item delivered to your door and put it straight on display, ready to show off to all of your friends and family.
A beautifully made steel outer from gives the urban edge and offers brilliant structural rigidity. There are solid iron handles on the two drawers that complement the piece wonderfully. The two drawers, offering additional storage space are H15 x W38.5 x D33 cm, whilst the overall dimensions of the unit are H76 x W80 x D40 cm.
What also makes the Urban Chic Range so attractive is the fact that each piece is truly individual and unique! Think about it: each piece is made using a blend of reclaimed and salvaged timers from India, hand crafted! This is something to boast about considering most items of furniture are constructed from generic plantations. Simply by looking at the picture you will notice the exceptional build quality of this item! It is truly designed to last a lifetime, and it will do as such.