The 3 most important features of Children's Furniture: Safety, Practicality & Appearance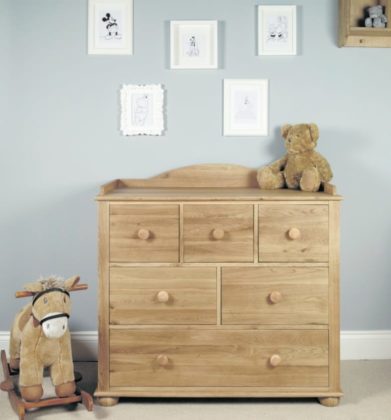 Decorating a room for your unborn baby is a most wonderful and exciting experience. With every stroke of paint on the wall you will be smiling to yourself about all of the adventures that you have ahead of you. Is the baby going to be a boy or a girl? Are they going to look more like you or your partner? Are they going to grow up to be rich and famous so that you can retire early and have them take care of you? (They better bloody do!)
Whatever the case, it is likely that you are also filled with an untold number of doubts, fears and concerns. It is an exciting, yet incredibly terrifying prospect, bringing a little person into this world and having to protect them. I guess a good place to start is by ensuring that the furniture that you use in their new bedroom is purpose built and designed with their safety in mind. At least then you can have one less thing to worry about, giving you more time to stress out about everything else.
Check out this Amelie Oak Changer and Chest of Drawers for example. This expertly crafted unit is constructed using mostly solid Oak and some carefully selected veneers. The overall dimensions of the chest are H 103.5 x W111 x D54cm – offering you ample storage space for those funky little onesies, the "Dad's rocks" T-Shirts and the dinosaur pyjamas.
This chest of drawers is designed to be used as a changing unit during your child's younger years; the perfect combination of storage and practicality. My advice would be to get a good whiff and enjoy the fresh oak smell while you can, as before long you will only ever associate it with hideous nappies; of which there will be plenty.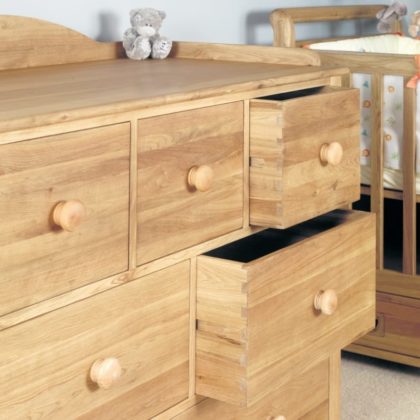 This chest features 6 usefully sized drawers: one large, two medium, and three small drawers; all of which are constructed using dovetail joints. Also, for your reassurance, know that the drawers are each fitted with 'stoppers' to prevent them from being pulled out onto your little one below. Children love to explore and render themselves in all sorts of danger, again, one less thing for you to stress over.
So go on, what are you waiting for? We've already established that this unit is not only incredibly handy and practical, offering you ample storage and baby changing facilities; but is also a safe and child friendly unit. On top of all of that it is aesthetically stunning and will fit well in any child's bedroom, whether they are a boy or a girl. This piece is an absolutely brilliant addition to your home and is available for free delivery within the next 8-10 working days.