When furnishing a smaller home with limited space – opt for hybrid units!
Furnishing a smaller home can be tricky, in that there is so only much space for you to place certain units. If this is the case and you are working with a limited amount of room, then it is important that you look out for pieces that double up as something else and offer a more practical solution to your living arrangement.
For example, this Olten Hideway storage desk and sideboard serves a number of purposes while also being an aesthetically stunning piece of furniture.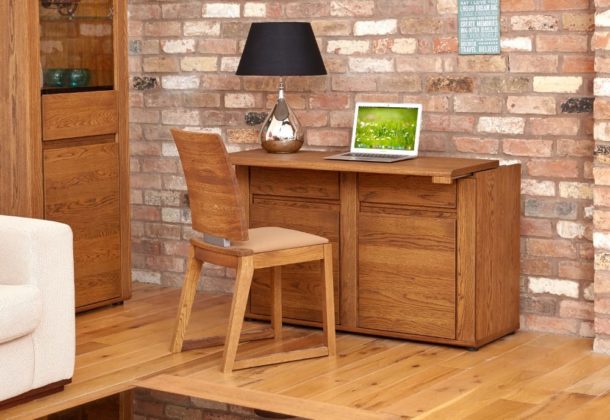 It is a modern sideboard that boasts a hidden workstation, with a hint of classical design that will certainly compliment a wide range of interiors. A flexible piece like this would fit perfectly in your bedroom, the living area, or perhaps even the spare room as well.
Rolling with an item of furniture like this is perfect for those who could use a workstation in their home, though don't have enough space for a purpose built desk and could actually use the extra storage space for other things.
It is made from stunning oiled oak which provides 'easy to maintain' protection whilst beautifully accenting the natural grain of the wood. Designed and created by Adrei Leckos; this unit is finished to the highest possible standards with stylish grooved handles, soft close doors and a clever sliding top to provide the convenience and function of a home workstation.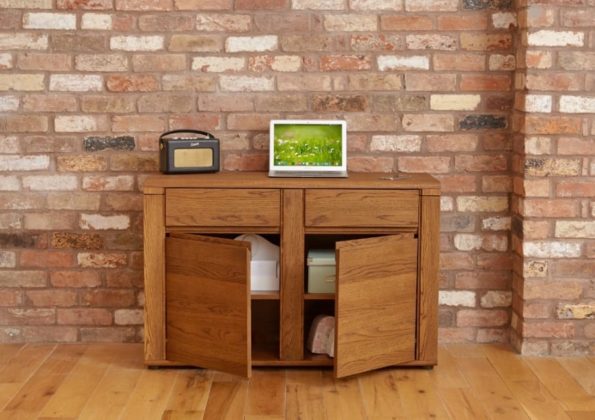 With regards to quality, you can rest assured it is of the highest calibre, being manufactured in Europe, and crafted using the highest grade European Oak veneers. The overall dimensions of this unit are: W116.5 x H78 x D45 cm.
The unit holds four compartments in the cupboards plus a clever under-the-top hidden storage space. Also, the internal dimensions of the four cupboard compartments are: W55 x H24 x D43 cm – while the internal dimensions of the top hidden storage compartment are W100 x H14 x D38.5 cm. This makes the unit big enough to offer ample storage solutions while not being too large or overpowering in the room.
Not only is this delightful piece designed to last a lifetime; but it is solidly constructed and required no assembly whatsoever. It is so convenient for you in fact, that we can have it delivered to your door, free of charge! Simply unpack it and smack is wherever you want it in your house.
Don't stress out about furnishing your home! There are many solutions for those who are working with limited space. All you need is a little patience and an eye for practicality. Take your time and have a look at what is out there on the market, you will discover a wealth of clever pieces that will serve you well in creating more storage space while also doubling up as something useful such as a workstation.