How to Avoid Making 7 Top Bathroom Renovation Mistakes
The bathroom is no longer simply a place to do your business and cleanse yourself of the days' dirt, but a tranquil escape where you can shut off from the world for a few moments and revitalise yourself. That being said; getting the bathroom renovation right, without haemorrhaging too much time and money is not an easy task, so here are a few pointers on how to avoid disaster.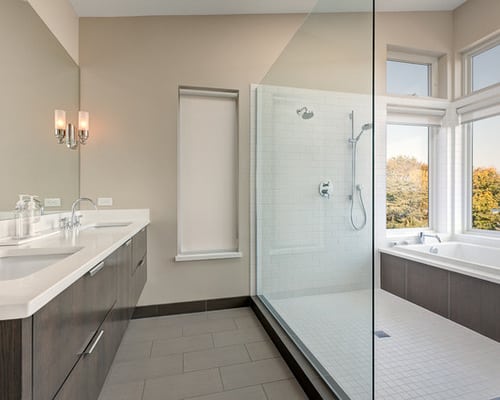 1: Try Not to Overspend
This is an obvious one I know, though it is all too easy a mistake to make, particularly when you want a wet-room area in your bathroom. To avoid overdoing it, try to ensure that the overall cost of the renovation is less than 2% of the property value.
A few good tips to keep the cost down:
* Design your bathroom around standardised fixtures to avoid having to have custom made items.
* Keep an eye out for sales and look to auctions when purchasing all of your tiles, faucets, cabinets and accessories etc.
* Endeavour to sell or give away all of your existing fixtures to make a little bit back and to avoid your overall disposal fees.
* Also, try to maintain the current configuration of your bathroom; having to hire a plumber to remap your bathroom is an expensive and often unnecessary expense.
2: Avoid DIY Waterproofing
Renovating your bathroom is an irrefutably exciting experience, and if you can manage to pull off the large majority of it yourself then it becomes all the more satisfying when you finally put the finishing touches into place. That being said; one of the most common issues in a bathroom is something like a leaking shower, which is an expensive issue to resolve.
Get it done right the first time! There is much that you will be able to take on yourself, though it is definitely worth hiring a certified waterproofing expert, providing you with certification and warranty (particularly handy if you go to sell your home after the renovation) – This may not seem to be a top cash-saving tip, as doing it yourself will definitely appear to be cheaper at first, but one tiny mistake can compromise the integrity of your waterproofing and then you're in for one hell-of-a headache.
3: Poor Ventilation
This is all too easy to avoid and will help prevent the disgusting eyesore that comes from a poorly ventilated bathroom. It's all very well having an open window; you will still need an exhaust fan to extract the steam.
4: Over-Cluttering
Be realistic about the amount of space that you have to work with. There is nothing worse than having an overcrowded, awkward bathroom that is littered with clutter. Plan your layout carefully and opt for furniture such as wall-hung cabinetry and in-wall toilet cisterns in order to best optimise your limited room.
5: Poor Lighting
A dimly lit bathroom can be an absolute nightmare, particularly when you're trying to have a shave or wax your leg! That's not to say that you need to over-do it on the lighting, it's simply all about the correct placement. For example: installing some lighting around the mirror above your wash basin is a great way to make your daily rituals a little easier.
6: Try not to Remove the Bath
This is not so important if you have absolutely no desire to sell your home in the future, though if you are not entirely sure if you will be staying there permanently then avoid this one. A house without a bath will undoubtedly affect the resale value of your home, but not only that; it's actually rather good for you, drawing a long, relaxing bath now and again.
7: Avoid Un-sealed Porous Materials
All of the surfaces in your bathroom should be impervious to moisture, otherwise overtime it will rot, swell and discolour. Materials such as Marble, Travertine and Hardwood MUST be sealed, otherwise you are going to soon have to replace them, or spend an incredible amount of money refurbishing them. Get it right from the start.