Our Urban Chic Nest of Tables – Convenient, Quality and Environmentally Friendly
When furnishing your living area, it is important to optimise what space you have as efficiently as possible, particularly if your living room is on the smaller side. The way in which you arrange your sofa and arm chairs will go a long way to maximising your floor space, but it is also wise to consider furniture that serves multiple purposes and can also be conveniently tucked away.
It wouldn't necessarily be a wise move to go ahead and buy three separate tables for the occasional date when you have friends over for drinks and snacks. A lot of the time these tables won't be being used, and unless they can be tucked away neatly, it is going to cause you much grief with them getting in the way and taking up all of the room.
So what can you do to get around this issue? Bathrooms and More Store have the perfect solution! Take for example, our Urban Chic Nest of Tables: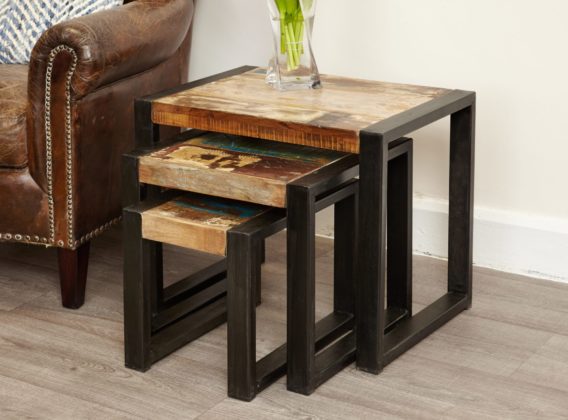 These tables are the perfect option for those with smaller living rooms, who also love to entertain and have guests over. This way you can slide the tables out from underneath the largest table, and they can be conveniently arranged throughout the living area, next to your seating, allowing your friends and guests to comfortably place their drinks and snacks.
Top Build Quality from Environmentally Friendly and Sustainable Sources
The best part is that these stunning tables offer a wonderful talking point as well. The Urban Chic Range is made using reclaimed wood that has been salvaged from old, abandoned buildings in Southern India. The wood used is generally between 50 and 150 years old and is put together by professional craftsmen who create this stunning and colourful furniture.
So when your friends and snacking from a bowl of Bombay mix on the table you can throw a little "did you know" out there, and then boom- you're off on an interesting debate about saving the environment, all the while confident in the fact that by purchasing furniture made from reclaimed wood; that you're doing your bit!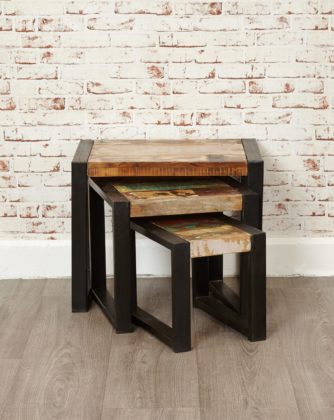 The furniture is built to an impeccable build quality, and despite the age of the wood; is designed to last a lifetime – With a stunning steel outer frame, the tables are given both an urban edge and the additional structural rigidity for your peace of mind.
The wood is also finished with a quality, resilient Satin lacquer which is both hardwearing, and also emphasises the gorgeous colour and character in the salvaged timber.
The overall dimensions of the tables are large H48.5 x W60 x D42 cm, medium H40.5 x W45 x D42cm, Small H33 x W30 x D 42cm.
So, do you want to kit your living room out with quality, environmentally friendly furniture that is as aesthetically pleasing as it is easy on the wallet? Then you need to grab yours today! Don't hesitate to get in touch for more information.