Breathe a modern edge throughout your home with our Urban Chic Dining Bench
When furnishing your home, it is important to consider items that can serve multiple purposes. You never know when you're going to want to change things around a bit, and rather than have to throw things away or sell them; it is convenient to be able to use them in another room, or for another purpose.
A perfect example of this: our Urban Chic Large Dining Bench.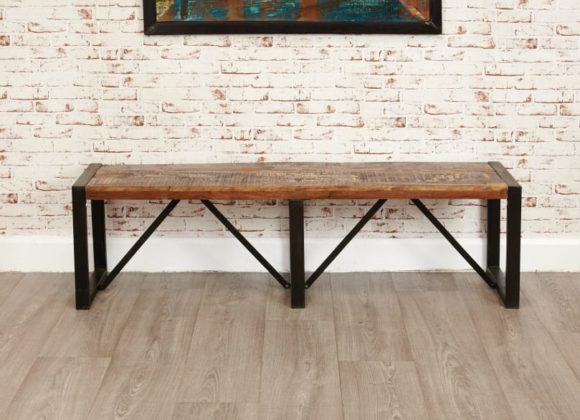 Traditionally this piece of furniture would be used for seating down at the dinner table, (as seen below) however it doesn't necessarily have to live there! This is a flexible piece of furniture that can be used for a number of different things, whilst looking great and fitting into your home wonderfully.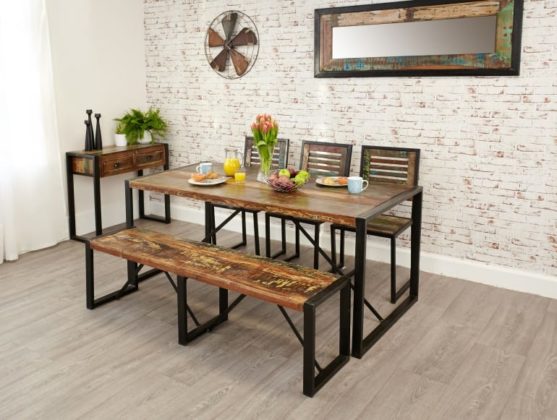 If you already have a dining table sorted, though you really like the Urban Chic Style Bench, then why not have it in your hallway to serve as seating in the morning for when you're putting on your shoes? This is a funky and stylish piece that will really catch everyone's attention as they enter your home. It will also serve as perfect support when you're friends are leaving after a few drinks and would otherwise be a little wobbly and struggling to put their shoes on!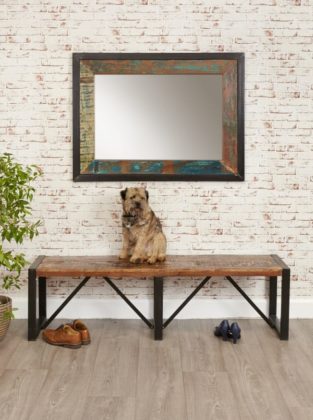 This unique and contemporary dining bench is part of our exclusive Urban Chic range. The Urban Chic furniture is made using reclaimed wood that has been salvaged from old, derelict buildings in Southern India, in place such as Guarat, Maharashtra and Rajasthan.
Each piece of wood is aged generally between 50 and 150 years old, though don't worry; a beautifully made steel outer frame offers the piece not only a fantastic urban edge, but also significant structural rigidity.
The Urban Chic Bench is made up of fascinating wooden slats, each with a curious and unique history from a most mysterious part of the world. These interesting and colourful items of furniture are assembled by skilled craftsmen who take thorough pride in their work.
Since each and every piece of furniture is hand finished, using a unique blend of reclaimed timbers, you can boast on the fact that every item is truly individual! On top of that: the Urban Chic range is environmentally friendly, given that the large majority of the timber is reclaimed!
The overall dimensions of the bench are H45 x W166 x D40cm – There is some minor assembly required, however all of the necessary tools and instructions are included within the package.
The wood is finished off with a stunning and resilient Satin Lacquer, which is hardwearing, yet effortlessly emphasises the beautiful colours and character in the timber.
The exceptional build quality is designed to last a lifetime, so you can rest assured that your Urban Chic Bench may even go another 50 years before being reclaimed once more and recycled into a door for a family in China!