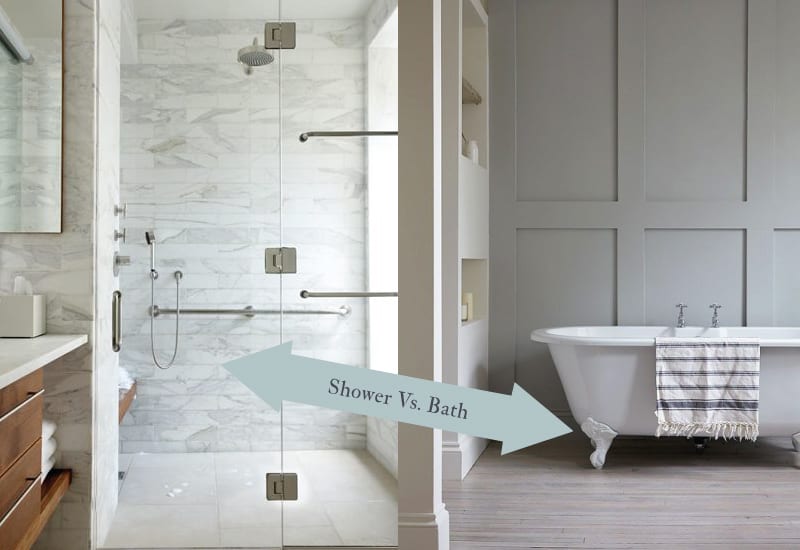 You don't have to have both, but you should at least choose the one.
We all love to stay clean (well, most of us) but on which side do you reside? There are pro's and con's to both of course, which we will explore in this article.
Which of the two is the cleanest?
It is often said that by having a bath, you are simply soaking in your own filthy water, which is correct to a certain degree, given that your body sheds countless dead skin cells, the dirt from your body and the residual soap invariably has nowhere to run. Though that doesn't take away from the fact that having a beautiful, long soak in a nice hot bath is arguably one of the most relaxing ways to end a hard day's work – That and if you have an overhead shower in the bath, there's nothing stopping you from having a wash off afterwards, right?
With that being said, it's fair to say that having a shower is technically cleaner, when it comes to your day to day, though when you take a shower your dead skin cells do not shed so easily, as your body isn't allowed enough time to soak in the water. Therefore it is actually beneficial to have a bath from time to time, regardless to whether or not you like it.
Of course, some men find taking a bath quite boring, or uncomfortable (as entertaining as it is watching your tadpole bob around in the water), though there are some major health benefits to having a hot bath that should not go overlooked. So shrug off the stigma that "having a bath is for women", crack out a bottle of wine and play some Enya, gentlemen.
Which of the two is healthier for you?
Having a warm bath can do a great deal towards reducing your stress levels, and provided you're not lying in scalding hot water, it can help to moisturise the skin too. Taking a hot shower is relaxing and revitalising, while the pressure on your body is great for reducing muscle pains.
On the flipside, cold showers are more beneficial for your health. They are perfect in the morning to help wake you up, they stimulate weight loss and increase your muscle recovery, all the while boosting your immunity. So whether you opt for a shower, or a bath beforehand, try to finish off with a quick blast of cold water for good measure.
Which is the faster of the two?
I think it goes without saying, that having a shower is invariably faster than a bath, given that it generally takes around 7 minutes to fill a standard bathtub, where as you can be in and out of the shower in that time. Though, you can't rush perfection, so if you have enough time, it's worth enjoying the occasional hot bath.
Which saves you more on your water bill?
A shower trumps the bath on this occasion, given that the average shower uses 50% to 75% less water than a standard bath. Still, it is important to indulge yourself now and again, so don't let this as a rule, put you off having a bath all together – remember the health benefits.
Which of the two is safer?
To be quite honest with you, both baths and showers can be dangerous, if you do not take due care. You can slip in the shower, just as easily as you can when climbing out of the bath. More importantly, it is possible that during a relaxing bath, you may doze off which could lead to drowning. Basically, you just need to take extra care no matter what you're doing, particularly when it comes to using candles when you have a bath – be sure to blow them out when you're finished!
Don't rule either one out, as both showering and having a bath have their benefits. Perhaps taking a bath everyday as opposed to showering isn't the best shout, but you should definitely afford yourself the occasional soak at the weekend of before bed.