Top 10 Tips for Improving Smaller Bathrooms
1: Mirror on the Wall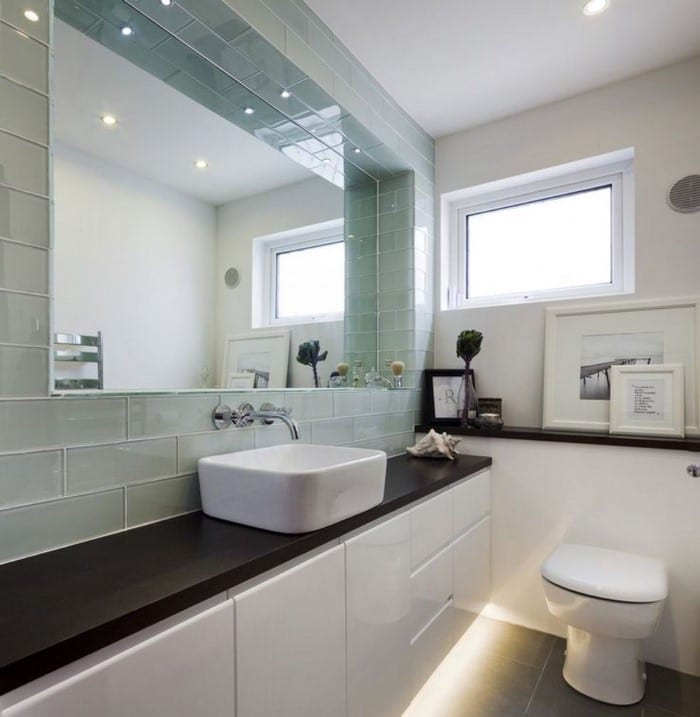 It's no secret that adding a large mirror to any small room can really help to open it up and create the illusion of having more space. In fact, if you take up the majority of a wall with a large mirror you can effectively 'double' the size of your room. This also works particularly well above vanity units, and mirrors are great for reflecting natural light, so you can get the most out of your windows.
2: Mounted Toilets
Wall mounted toilets are an excellent choice, particularly floor space is an issue and you are currently struggling with leg room. By having a built-in toilet cistern you can free up a lot more space both under and above the toilet. If you are unable to have a wall mounted toilet, then there is always the option of adding additional shelving above, offering you extra storage for those necessities that would otherwise take up space on the floor, such as toilet roll for example.
3: Do you need a Bathtub?
I'm sure there are a number of you reading this thinking: 'over my dead body', which is fair enough. If you take a bath far too regularly to warrant doing away with it and you're happy to sacrifice having more space for the option to bathe whenever you like; then by all means hold onto it. But how many of you actually need a bathtub? While I enjoy the occasional bath, I can't honestly say that I do so enough to warrant holding onto a bathtub, particularly if I were struggling for space. Replacing your bathtub with a good sized walk-in shower will free up a great deal of space in your bathroom for certain.
4: Get rid of those old Shower Curtains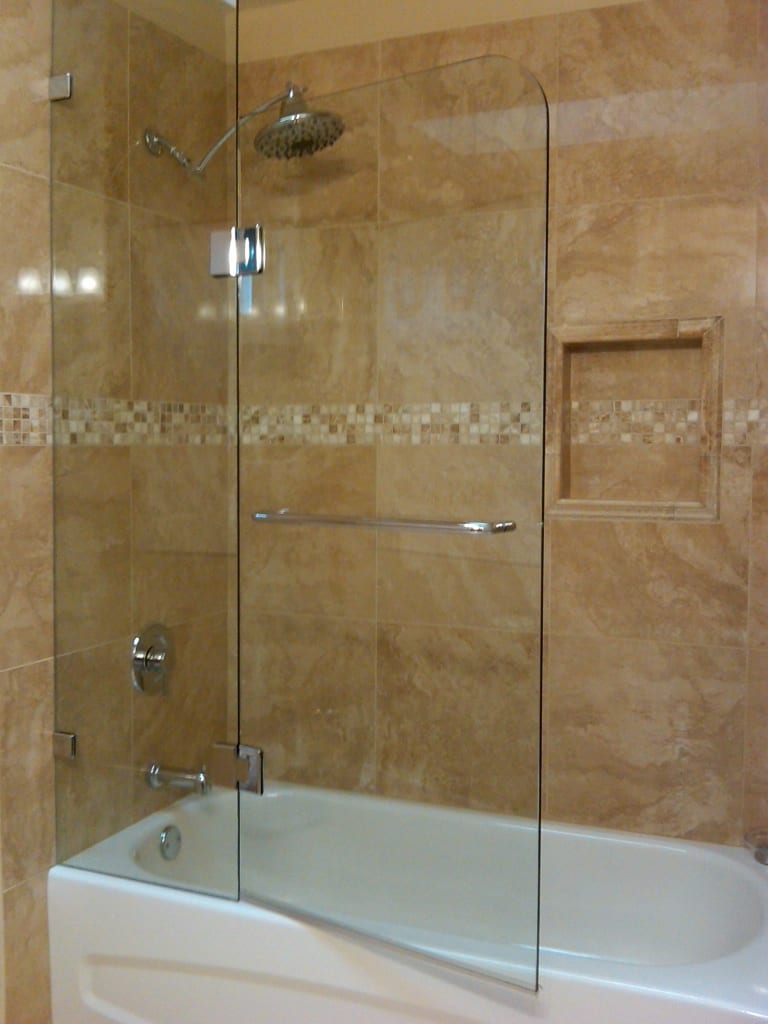 There's nothing worse than having a grubby shower curtain stick to your leg when you're trying to have a nice shower. Not only is it rather disgusting and difficult to clean, but it also makes a smaller bathroom appear all the more smaller by restricting your vision (that and having shower curtains significantly increases your chances of being murdered by a serial killer) If you want to prevent this, then you can swap out your old curtains for a frameless glass bath guard. These are infinitely easier to clean and will make you fell less claustrophobic when having a shower.
5: Install a Pocket Door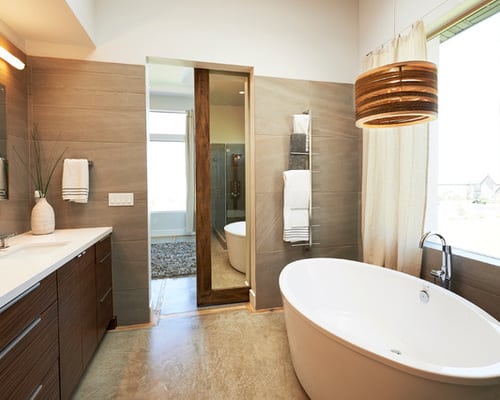 Pocket doors are actually an incredibly effective way of creating more space in the bathroom. While you will have to open the wall in order to create the space for your pocket door, in turn you will actually gain up to 9 square feet of usable space that you wouldn't have otherwise had before. Also, if you take a look at the image above you will notice that this pocket door in particular is in fact mirrored which effectively a space-saving double whammy!
Another great way to save space in a small bathroom is by adopting wall mounted sinks. Just like wall mounted toilet, these save on floor space and make the bathroom feel a great deal more open as well. You can also add floating vanity units above your sink in order to create more storage space without taking up any room on the floor.
7: Look up – Shelves and Vanities
Whilst on the subject of wall mounting objects; additional shelves and wall mounted vanities are essential for creating more storage space and reducing the amount of clutter in your bathroom. There's nothing worse than having needless clutter taking up all of your space around the sink, when instead you can have everything tucked out of the way.
8: Curbless Showers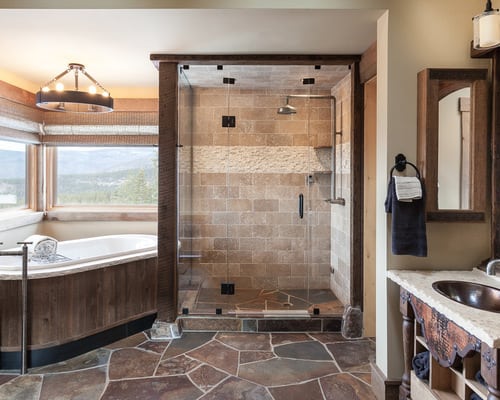 Installing a curbless shower is arguably one of the best ways to open up your bathroom and create the illusion of having more space. Allowing your flooring to continue right into the shower works great with stone slabs, concrete or tiled floors and they are much easier to clean. If you really want to go all out to create the ultimate seamless look then you can even add a concealed 'infinity-edge' drainage system. This style is modern, practical and aesthetically stunning – top tip.
9: Strategic Colour schemes are Essential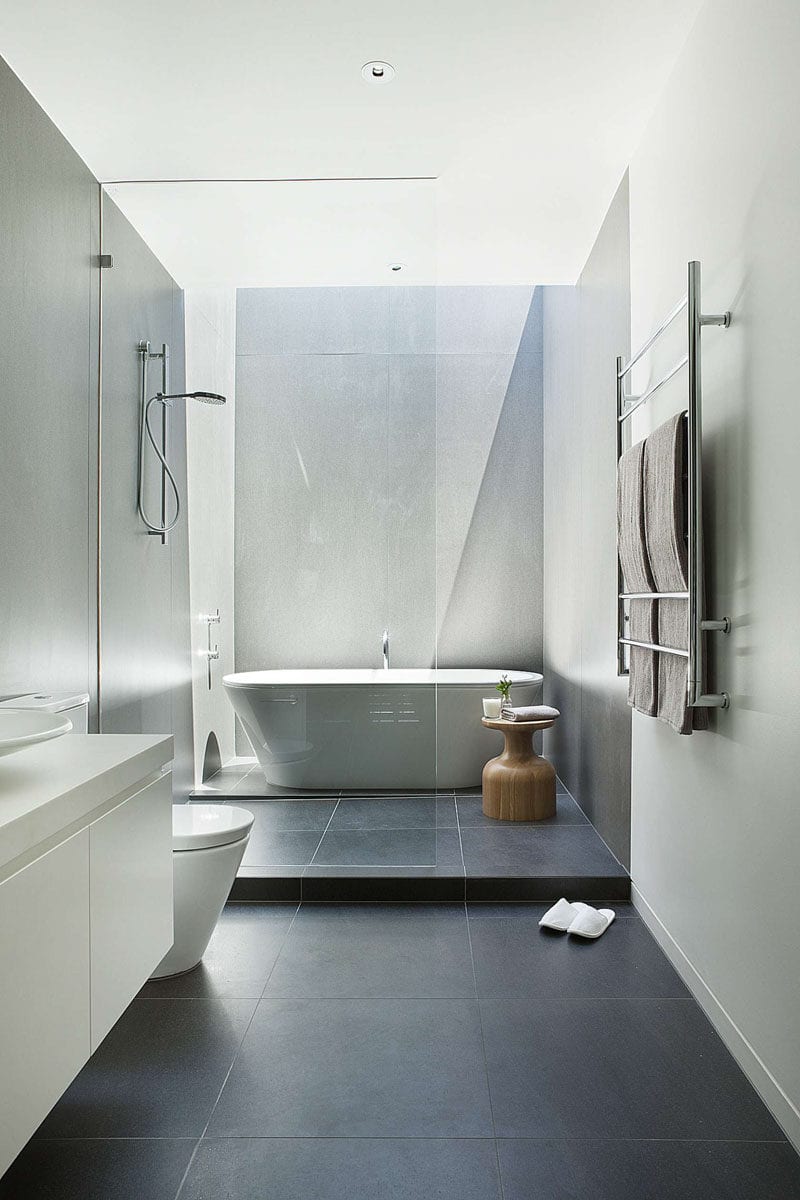 For the most part, making a smaller bathroom feel larger is all about tricking the eye – creating the illusion that the room is much bigger than it actually is. One of the most effective ways of creating this illusion is through colour. You must always opt for lighter colours on your walls, which effectively reflects natural light throughout the bathroom; this typically works well with darker colours on the floor as well.
10: Accent Wall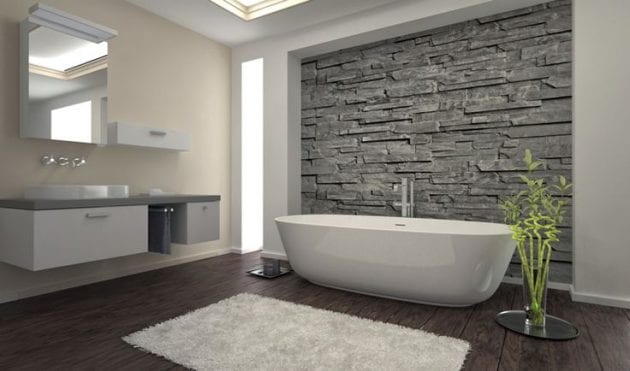 Adding an accent wall is something that should arguably be added to a bathroom of any size, given the charm and character that the right design can create. An accent wall can be made simply be using different colours, or various tiles; but you can get as creative as you like with it! This technique will ultimately add a great deal of depth to your bathroom so it is a tip that should definitely not go overlooked.