The Perfect Furniture for Displaying your Impressive Book Collection
Nothing quite completes a home like a bookcase filled with all manner of classic writes, cookbooks and other literary delights. Even if you don't read, it breathes a certain elegance into your home and makes you look a darn-sight more sophisticated than you actually are.
Why not go one better with this Urban Chic, Large Open Bookcase; as not only will you look well-read, but also environmentally conscious too. Why? We'll get to that in a minute, but first of all take a moment to admire this stunning, retro bit of kit.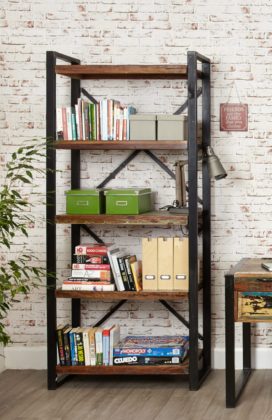 This large open book case is a very handsome and diverse piece of furniture, perfectly suitable for any room in the house. Whether you want some extra storage space in the bedroom, or you'd like to showcase your collection in your living room; you'll find it to be an excellent addition to your home.
The overall dimensions of the bookcase are H200 x W140 x D40cm, offering ample storage. The unit has four fixed shelves, plus an additional open shelf at the top. All four shelves are H38 x W130 x D40cm.
Notice the beautifully made, steel outer frame, giving this unit a fantastic urban edge and provides significant structural rigidity. All of the Urban Chic range items of furniture are built to an exceptional quality and are designed to last a lifetime.
At this stage you're probably wondering why featuring this bookcase in your home will make you look environmentally conscious, so allow me to elaborate.
Our exclusive Urban Chic range is made using reclaimed wood from Southern India. All of the wood used is aged between 50 and 150 years old and is assembled by skilled craftsmen who passionately create this gorgeous, colourful and interesting furniture.
With the growing global concerns for the sustainability of our world's rainforests, what better a way to do your bit for the environment, than buying furniture that is made from salvaged and recycled timber? Not only do they look incredible, but you can also feel good about yourself in the knowledge that you are contributing towards a better world. (Or at least that's what you gloat to your dinner quests)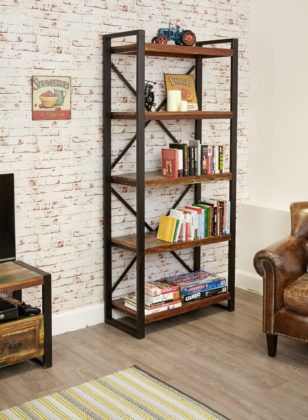 Another positive to purchasing our Urban Chic Large Open Book Case is the fact that each and every unit is entirely unique – hand finished using an individual blend of reclaimed timbers, using a resilient satin lacquer which is not only hard-wearing; but also emphasises the beautiful colour and character in the grain.
The furniture does require some minor assembly, though all of the necessary tools, part and instructions are included.
Not convinced? Enjoy FREE delivery on all orders and a 14 day money back guarantee if the unit doesn't meet your expectations. If it makes sense, do it.