Another Work of Art from the Outstanding Urban Chic Range; The Monks Storage Bench
You simply have to have a gander at our incredible Urban Chic Range, if you are looking to breathe a retro-rustic edge throughout your home. In particular this Urban Chic Storage Monks Bench: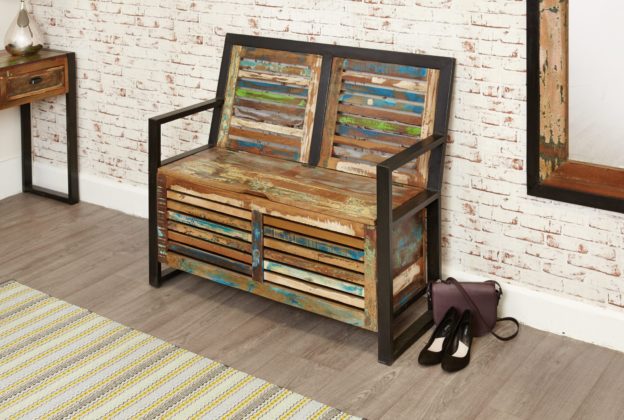 When you look at this bench, what do you see? – A funky and colourful piece of furniture right? Well, there is much more to this versatile item than meets the eye. Underneath your bottom, is a large storage space which can be used to hide away your bits and bobs.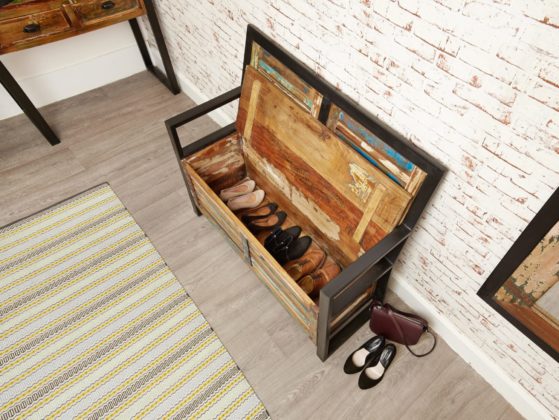 Ideally, this piece would be perfect to have out in the hallway, near the front door. That way you can store away all of your shoes in order to keep the clutter down to a minimum. And the best part is, when you take your shoes out of a morning, you have somewhere to sit down while you're putting them on.
So not only does this awesome bench look great and ooze practicality; but it's also environmentally friendly – which gives you something to think about when you're tying your shoe laces; how much of a good person you are.
Basically, all of the timber used in the Urban Chic range is salvaged and reclaimed from older buildings in places such as Maharashtra, Rajasthan and Gujarat in Southern India. Rather than opting for furniture that is made from rare and finite materials, why not go one better and pick up a truly unique piece of furniture that is made from wood that is up to 150 years old? – Rich with history and glazed with character. It's a win-win transaction.
How many of your friends can say that their furniture is truly unique? The wood is finished with a resilient resin lacquer which is both hardwearing and also emphasises the colour and character in the timber; the blend of which renders all of our items as being truly individual.
The steel outer frame offers a fantastic urban edge, while giving the furniture significant structural rigidity. The piece also has solid iron handles which truly compliments the unit wonderfully. Basically, these benches are designed to last a lifetime.
This piece is solidly constructed, so that there is absolutely no assembly required whatsoever. All you need to do is take advantage of the free delivery and let our guys bring the bench straight to your door. Then you can plonk yourself down and ponder on what a brilliant purchase you've made.
Don't miss out! Get over to our online store and make your purchase today. The Urban Chic Range is a quality, environmentally friendly and aesthetically impressive collection and will surely be a great addition to any home.