Everyone has a different imagine in their heads when they picture their forever home. Some people want the cosy cottage in the English countryside. Others dream about rustic loft in the heart of New York city. Most people like to keep it simple, and just want a big enough space in a quiet area where they can raise their families and go about their days. Ultimately, it comes down to what you want out of life, and what will make you happy.
If you're anything like me, and you're a bit of a bookworm, you'll have always pictured an old-school study, or home office. You'll have that one extra spare room which you can call your own! Your partner called the shots when decorating the rest of the house, so this one will be entirely up to you.
I'm picturing a large oak desk before a bay window. Perhaps a leather armchair in the corner of the room, a few strategically placed plants to oxygenate the space and help to boost your productivity, and most important of all: a bookcase.
Now, obviously you can't just have any old bookcase. It's got to be a rich, dark brown, with some gorgeous regal craftsmanship. That, and it has to be big enough to hold all of your favourite books! Take this La Roque Tall Open Bookcase as an example: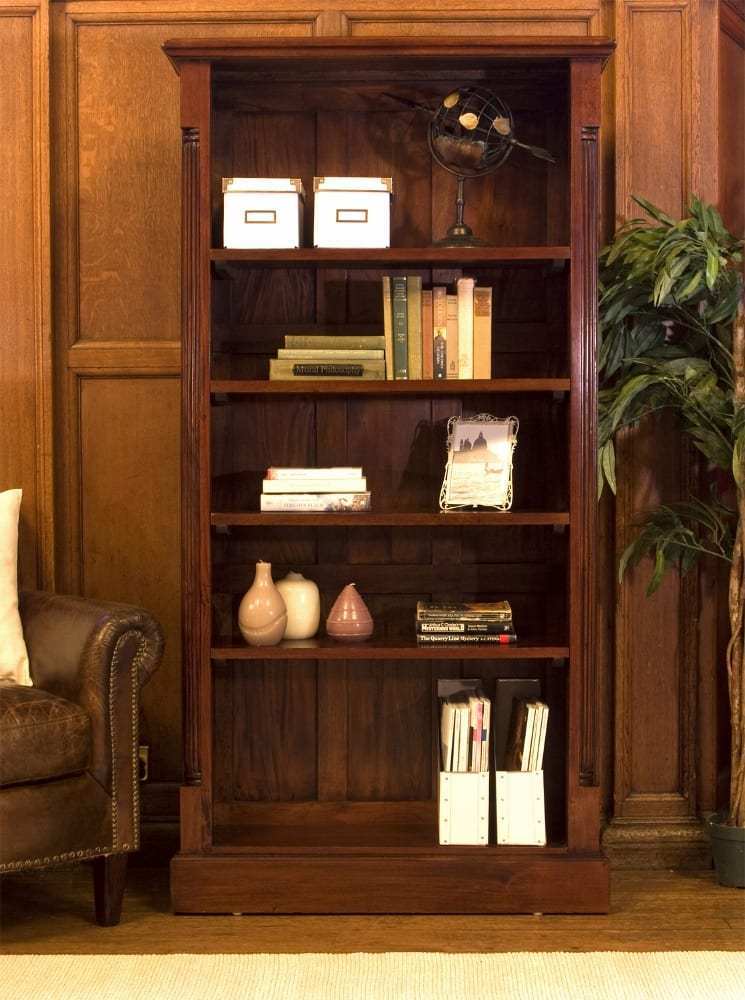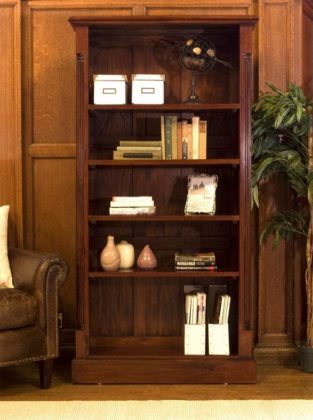 Were you picturing a similar piece in your mind? Here at BMS, we're passionate about great taste! Which is why we select on the finest and most desirable home furniture to stock on our website. This particular piece is an instant favourite of ours, based on its timeless appeal.
The bookcase includes 5 removable / adjustable shelves. As you can see in the image above, one of the shelves has been removed to create more space between each. Of course, you can customise yours however you see fit.
The dimensions
The height of the shelves (from top to bottom) are: H38, H24, H24, H24 and H39 cm.
The width and depth of all shelves is: W74 x D26cm.
Are you starting to fill those shelves in your minds-eye already? Notice the classic globe on the top shelf. No home office would be complete without a ponderous globe! Of course, the items stacked on the shelves are not included, they're simply intended to fill you with inspiration!
Safety precautions
Should you go for this stunning piece, we would wholeheartedly recommend that you attach the bookcase to the wall for additional safety and stability. A full bookcase can be incredibly heavy, causing serious harm if it were to fall. That said, the bookcase has been built by expert craftsmen and is designed to last a lifetime, as is all of the furniture that we stock.
Not to your taste?
Perhaps this bookcase is a little too "old school" for you. Well in that case, you'll be pleased to learn that we have a wide selection of home office furniture to choose from. It's in the name: Bathrooms and More Store, which is why you'll find a grand selection, with a wide range of different styles as well!