Nobody puts basins in the corner! Unless of course, they're bathroom is tiny and they're looking for a clever solution to their square-meter woes. For those with smaller bathrooms, smart optimisation and utilisation of space is paramount. You need to use every square inch available to its full potential. This means using the walls-space by installing handy shelving and overhead medicine cabinets, and it also means installing a floating, corner wash basin as well. Let's look at the many benefits of doing as such.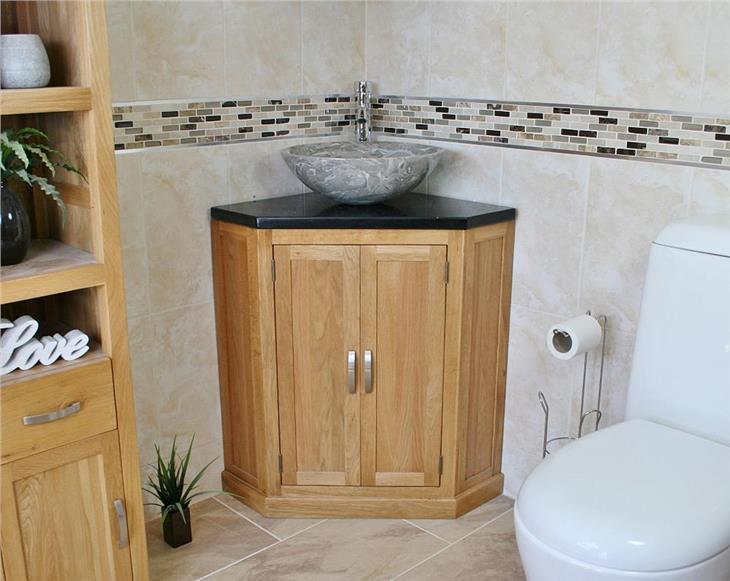 1 – Corner space is valuable
What else would you be doing with the corner space of your room? Probably not a lot! Which is why utilising that space with a wash basin is arguably one of the best solutions for a small bathroom / cloakroom set up. With the addition of an over-head mirror cabinet as featured in the image below, you'll be creating yet even more space to store your essentials.
2 – It's clean and symmetric
Having your basin tucked away in the corner looks clean and symmetric, which is a huge benefit. Otherwise, it could be taking up plenty of much-needed space in your bathroom, looking off-centre and out of place. This is one of the smartest utilisations of the space.
3 – You have a choice of five basins!
This gorgeous oak top vanity unit comes with a choice of five different basins to choose from, with three different materials; Marble, Onyx, and Travertine.
Bowl A (travertine) Dimensions : H14cm X Diameter 43cm.
Bowl B (white marble) Dimensions : H14cm X Diameter 43cm.
Bowl C (grey marble) Dimensions : H14cm X Diameter 43cm.
Bowl D (cream marble) Dimensions : H14cm X Diameter 43cm.
Bowl E (golden onyx) Dimensions : H14cm X Diameter 43cm.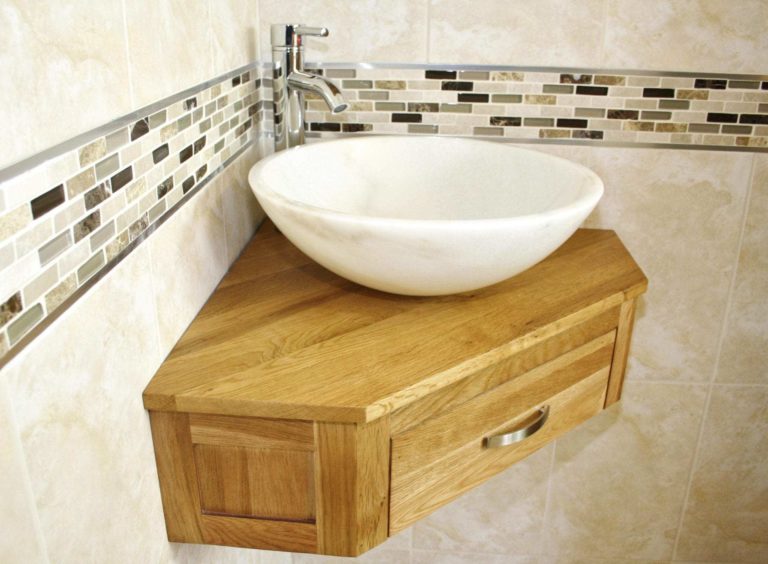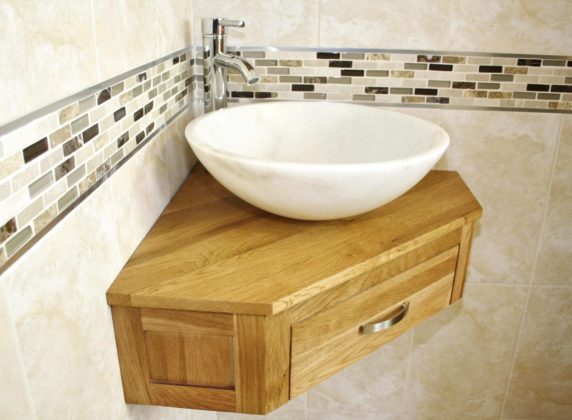 (Insert IMG Corner Basin 2)These different options will allow you a great deal of choice when it comes to selecting the colour scheme of your bathroom. Of course, white marble is very neutral, enabling you to roll with any colours that you desire. Whereas, travertine and golden onyx would require a more refined approach.
The basin is topped off with a chromed mixer tap, creating a clean and fresh look! These corner units are expertly crafted and designed to last a lifetime. Once installed, you should get an awful lot of usage out of this gorgeous new addition to your home.
Conclusion
It's difficult having a small bathroom or washroom and wanting to create more space. Without knocking down walls, there is little else that you can do besides using the wall space available, creating hanging space on the back of the door, and of course, taking full advantage of the corner space as well. As such, we conclude that these corner wash basins are amazing! Stop stressing about having no room to move around in your bathroom and create a clever space which allows you to breathe.