Do you work from home? You'll love this Solid Oak Twin Pedestal Computer Desk
It's all in the name: Bathrooms and More. We're much more than just an online Bathroom store, in fact we are dedicated to quality furniture in general. Gearing up people's houses and transforming them into homes is our passion and priority.
The problem is, once you've completed your bathroom renovation, how would we be able to continue helping you transform your home if we didn't offer anything else? In light of this, our team is dedicated to securing only the finest home furniture, from Children's Beds and Baby Changing Units, to Wine Racks, Laundry Baskets and Book Cases.
This is why Bathrooms and More should be your first choice when looking to renovate your home. We have a wealth of quality items that are sure to fit wonderfully within your home.
This Mobel Solid Oak Twin Pedestal Computer Desk is a fine example of the calibre of quality furniture that we stock. Perfect for those who are looking to renovate their spare bedroom into a home office perhaps?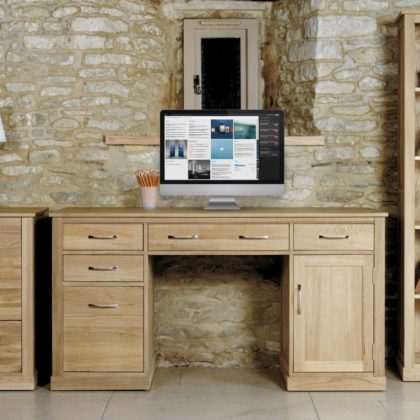 This truly beautiful twin pedestal home office computer desk is constructed from 100% solid oak hard wood. The pull-out keyboard drawer boasts a generous 38cm deep working area, allowing you plenty of room when you're hard at work.
The right hand cupboard hides a tower unit and the internal dimensions are H: 53.4 x W38 x D50 cm. This provides you with ample space for you to store all of your stationary and other essentials, so that you never have to stray far from your desk allowing you to maintain momentum when battling to meet those deadlines.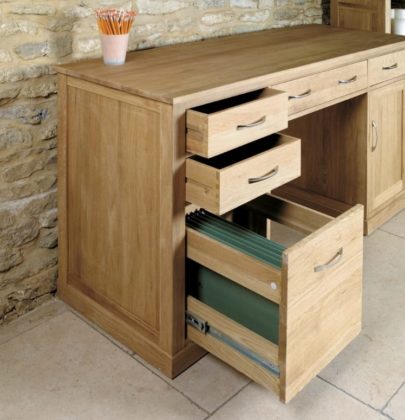 There is also a large suspension filing drawer located in the left pedestal which hold foolscap files. Keep all of your important documents tucked away neatly in a roomy, purpose built drawer.
There is also three large stationary drawers which provide some extra useful storage solutions, allowing you to keep all of your essential items close to hand at all times.
Working from home can be an incredibly convenient way of earning a substantial income, whilst being able to take care of your family at the same time. Even so, whether you're in the office or working from home; it is important that you endeavour to maintain a level of health and safety.
Slouching on your sofa with your laptop is alright when you're bumbling around on the internet and relaxing; though if you're doing a full day's work in this position it will be detrimental to your health in the long-run.
This is why it is so important to invest in a quality workstation and an ergonomic office chair. You should never skimp on quality when it comes to your well-being. A fine workstation like this not only looks aesthetically beautiful, but it is constructed to an exceptional build quality and will last you a lifetime.