Raise Your Game with this Urban Chic Tall Media Cabinet
This Urban Chic media cabinet is the perfect solution for all of your entertainment hardware needs in the lounge, particularly if you're a gamer. For most people, the Blu-ray / DVD player have become somewhat obsolete. – What with the rise of Netflix and Amazon Prime movies. However, for those of you with an XBOXOne or a PS4 (or both), this piece of furniture will be absolutely perfect. The tall media cabinet makes rooom for a sizeable volume of hardware units.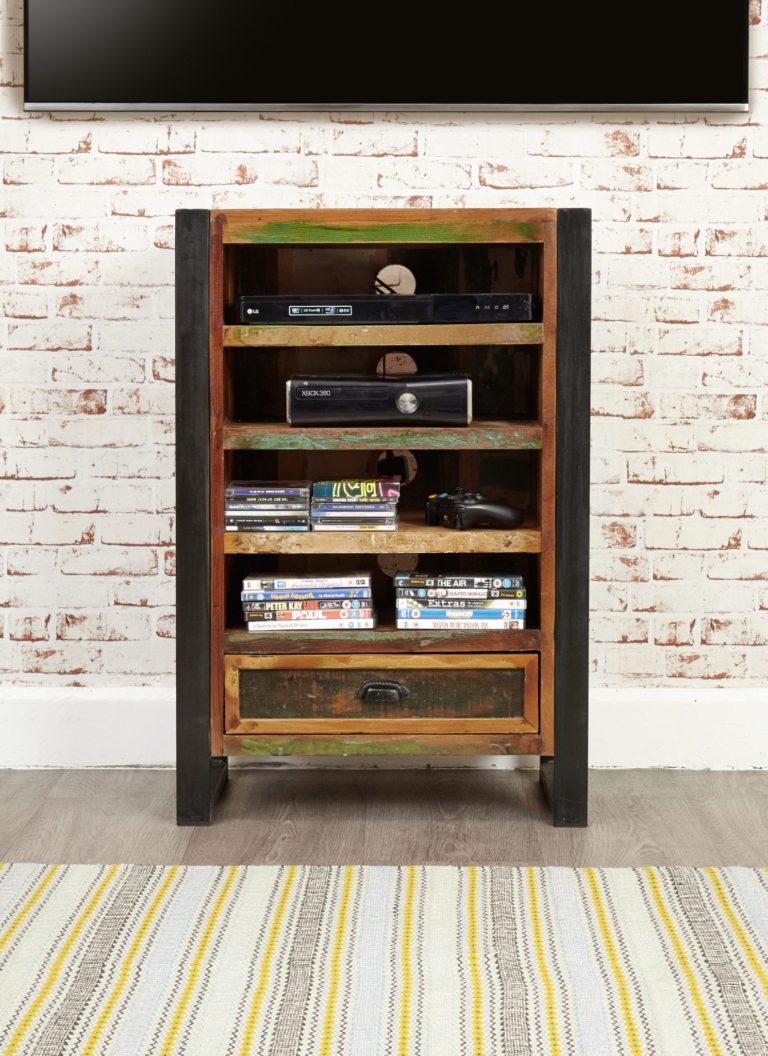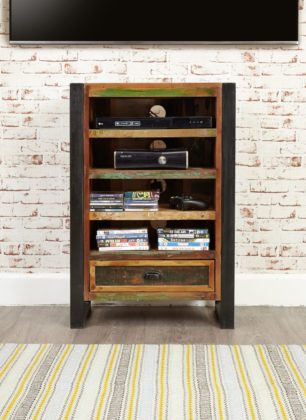 The entertainment unit has 4 shelves, including and one drawer (H10 x W43 x D26 cm), which provides handy storage for any games or DVD's that you want to keep tucked out of the way. The tall media cabinet offers room for shelves that measure at H11 x W46 x D33 cm, allowing enough space to fit any and all entertainment hardware. Additionally, there is a pre-drilled hole at the back for each, so that you can link your devices up to the TV without having any unsightly wires on display or getting tangled up with one another.
Doing your bit for the environment
This unique item of furniture is particularly interesting as well, due to the nature of its rustic, yet colourful design. All of the wood that is used to produce the Urban Chic range is salvaged from old buildings in places such as Gujarat, Maharashtra and Rajasthan Southern India – most of which are aged between 50 and 150 years old!
That's a colourful life that your furniture has seen already. And now it can be sitting in your lounge, housing your favouring gaming consoles while you save the world in the digital universe as well!
You can feel good about buying this item of furniture because it is incredibly eco-friendly. You'll be doing your small part for the environment and reducing your carbon footprint; whilst kitting your home out with some awesome features.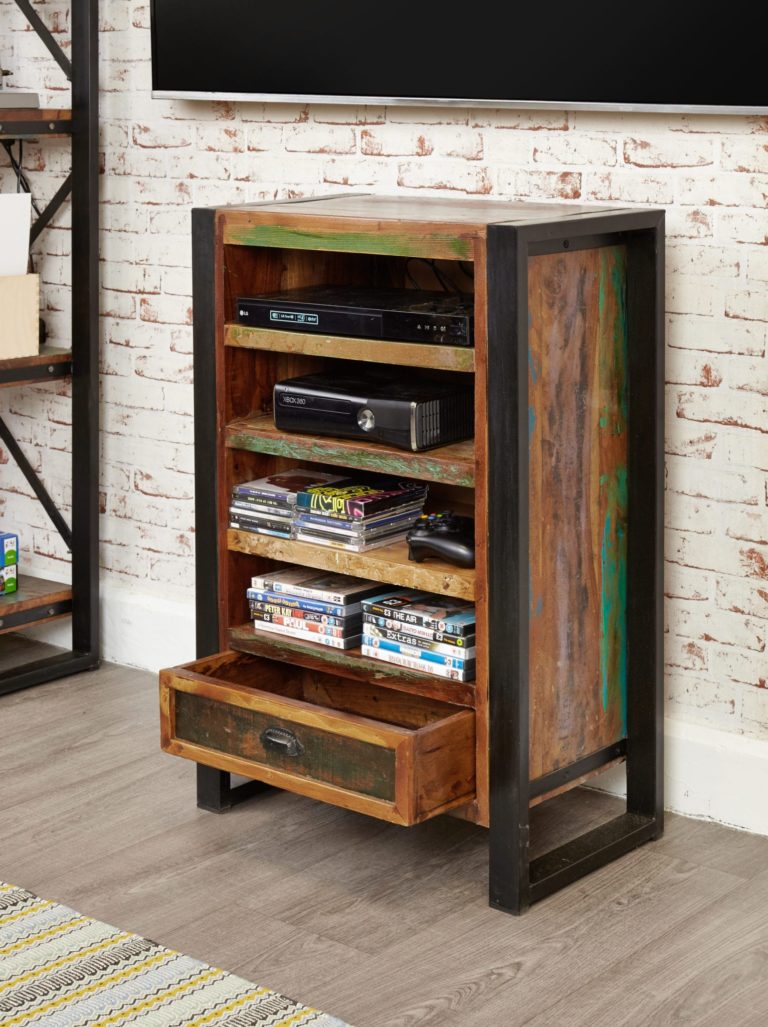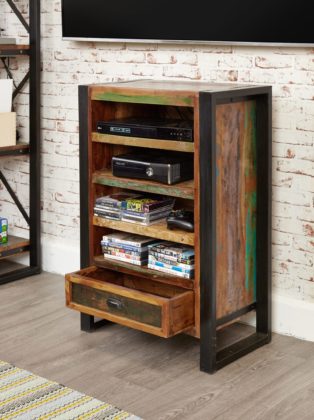 Authentic, expertly crafted and designed to last a/nother life-time
Since all of the wood is unique, every item created in this Urban Chic range is an individual piece. The wood is reclaimed and then fashion into beautiful, functional furniture by skilled craftsmen. The steel outer-frame completes the gorgeous rusting feel, whilst offering it significant structural rigidity. Simply put: these cabinets are designed to last a life time.
Additionally, the wood is finished with a resilient satin lacquer, emphasising the gorgeous colours in this truly astonishing piece of artwork.
When you invest in an item like this, you're not just buying a piece of furniture. You are investing in authentic art. When your friends and family see it, they will fall in love. So, the next time you've got your mates round for a few drinks and some couch-coop; ask them to turn the console on and watch their face light up.
Do you love the Urban Chic range as much as we do?
If you like the look of this media cabinet and you want to see what else the Urban Chic furniture range has to offer then follow the link. Have a browse through at your leisure and marvel at the quality and authenticity in each item.
If you have any questions regarding any of our products, please feel free to contact us at your convenience. We're always happy to help!