We do actually have something to suit pretty much every room of your home!
One of the most common items of feedback from our satisfied customers is just how much more we really do have to offer! The title 'Bathrooms and More' really can be deceiving as while our primary focus is of course our specialty: Bathroom wash basins and vanity furniture; we genuinely do offer an incredible variety of furniture for the rest of your home. So be careful because if you spend too long on our comprehensive and easy to use online store you'll end up with more than just a delightful new bathroom; in fact you may just end up refurnishing every single room in your entire house!
But don't let that put you off because we truly offer some astonishing savings. Since we are an online store without any physical stores or showrooms we can afford to share our cash savings with you: our valued customer. While delivering unparalleled customer service is of the utmost importance to us; we also have an irrefutable passion for quality, well-designed and affordable home furniture.
Our gorgeous Oak Extending Dining Table and chairs will be the perfect addition to your home
Check out this OLTEN EXTENDING DINING TABLE WITH DRAWER IN OAK FINISH for example: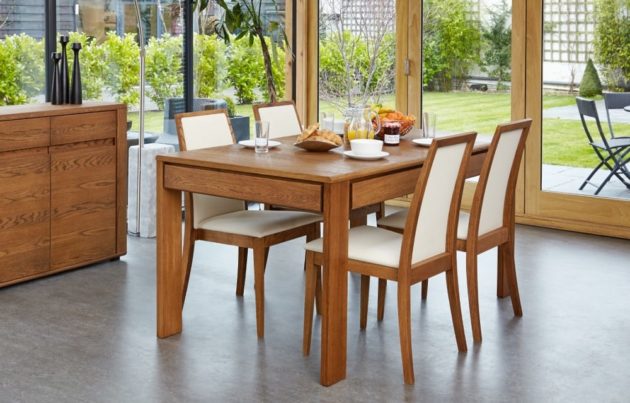 This exquisite item is the perfect example of the calibre of furniture that we stock our shelve with! This is a modern and elegant 'extending' dining table with a hint of classical design, featuring a clever and very useful hidden drawer for your table matts and other essentials.
The extender system on this table is superbly engineered to be exceptionally easy to use whilst hiding all of the mechanisms. This awesome piece comes complete with an oiled oak finish providing an 'easy to maintain' protection, whilst beautifully accenting the natural grain of the top quality wood. Perfect for those who like to entertain now and again but also want to save as much space as possible in the mean-time.
Of course the table isn't quite complete without the delectable OLTEN CREAM DINING CHAIR IN OAK FINISH: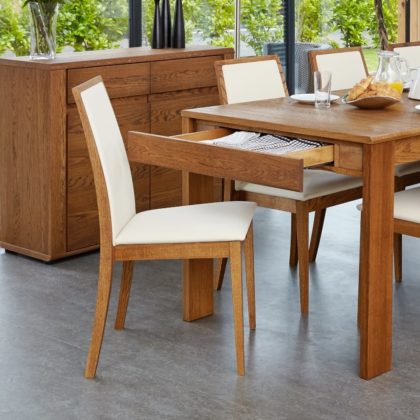 these chairs come in pairs and have been expertly designed to complement the Olten Extending Dining Table wonderfully.
These darling chairs are upholstered in a luxurious, hardwearing cream-shade fabric. They feature a classic design with a sleek backrest that combines style, comfort and ergonomics. This dining set was designed and created by Andrei Leckos and is manufactured in Europe, crafted from the highest grade solid oak.
All of our products will be delivered to your home for free! So not only do we offer exceptional savings on some of the finest quality furniture available in the UK; but we also deliver them to your doorstep for absolutely no extra cost whatsoever. We here at Bathrooms and More really are all about going that extra mile for our customers and delivering an exceptional service. If you're looking for more then you've certainly come to the right place!