Some Advice/Tips to Help Prepare the Perfect, Romantic Bathroom Experience for Your Partner:
While the bathroom tends to bear the brunt of your bodily functions, believe it or not under the right circumstances it can actually be transformed into a very romantic environment. So if you are looking to treat your better half to a beautiful evening then we have compiled a list of ways in which you can make it happen!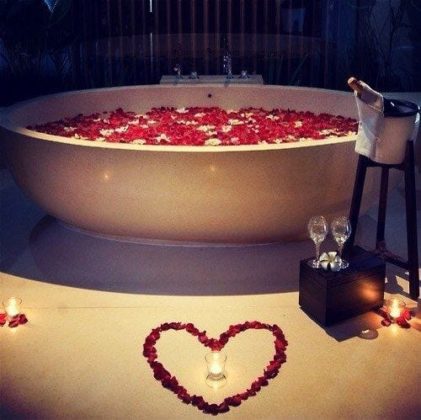 Clean and Fresh
First things first it is paramount that you clean your bathroom. Nothing quite kills the mood more than a grimy bathtub! But also be sure to tidy the rest of your bathroom as well – if you are to pull this off and gain as many bonus points with your partner as possible you're going to have to pull out all of the stops.
Timing is Essential
Next you'll have to choose a time when you are positive that you will be uninterrupted. It's all very well setting up a romantic evening and getting into the groove of things until the kids come knocking on the door! In order for you both to be able to fully relax you need to ensure that you have the house entirely to yourselves.
Don't overdo it
An easy to mistake to make is throwing too much into the mix. If you want to create the perfect romantic environment then be sure to keep things simple – you don't want overly fragrant bathwater. Rose petals sprinkled on top of the water are not only a stunning gesture but it also adds a delightful and romantic fragrance.
Bubbly Love
Of course a romantic bath isn't quite the same without a hint of bubble bath! We recommend that you roll with more mature scents such as vanilla rather than going for the generic fruit flavours that you would tend to put in your children's bath. Get those bubbles rising and the love will certainly start flowing!
Rub her the right way
Now, bath-time isn't complete without a good ol' fashioned rub down so make sure you invest in a couple of soft sponges or loofahs. If you really want to woo your partner then you're going to have to smother their body with a passionate, warm and sensual lather.
Lights, Candles, Action
Get the lights off and spark up a couple of candles! There is nothing quite as soothing as a selection of delightful scented candles to fill the room with a gorgeous and romantic ambience. Scatter them around and be sure to place them where they cannot be knocked over by wandering arms.
Soothing Melodies
Music is the key! Make sure you crack on a chilled out playlist that suits both of your tastes. Be mindful to play songs that have a significant emotional trigger as well. Slow, soft, sensual! Try to avoid clichés such as Barry White or R-Kelly; be creative and let the rhythm take over.
Wine and Dive
Bathing is thirsty work so it is also important to have a couple of bottles of wine on ice! You can even add a tray of strawberries or other light bites to add a little flavour to you evening!
Warm and Dry
And then finally don't forget the towels! A beautiful soak in the bath can be ruined if you only have a couple of used, damp towels. Make sure they are clean and fresh and warm from the radiator so that you can dry one another off before heading to the bedroom…