The Dining Room is a place for the family to get together and so should never be overlooked.
The dining room is of course one of the most important rooms in your home (besides the bathroom of course!) as it is the place where you and your family can sit down in an evening and catch up with one another over dinner. Which is why we here at Bathrooms and More are incredibly proud of our varied range of beautiful dining room furniture for you to choose from.
In many cultures it is believed that eating alone can bring you bad luck. Now there may or may not be any truth to that but we're not prepared to risk it as a moment shared is always worthwhile. As a family run business we value nothing more than sitting down at the dinner table with your close friends and family around you, feasting, drinking and laughing! That is how memories are formed and bonds are strengthened and nothing enunciates those joyful moments quite as much as a stunning and expertly crafted set of furniture to share.
We have some delightful dining room table sets – perfect for sharing with your family
Just check out our OLTEN – EXTENDING DINING TABLE IN OAK FINISH for example: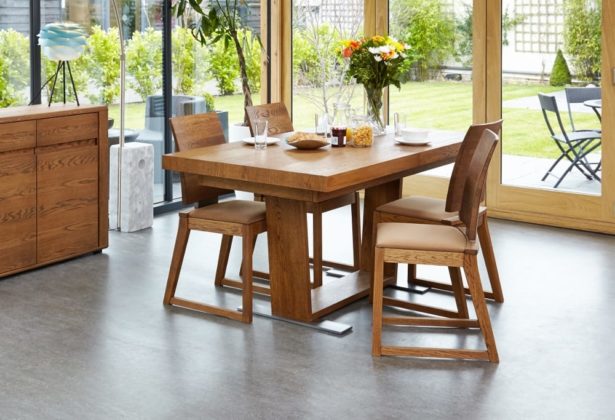 this dining table is an absolute treasure and will add as much value as it will add vibrancy to any dining room area. Notice the exceptional build quality: this exceptional dining room table was designed by Andrei Leckos to last a lifetime – just think of all of the laughs and memories that can be shared around this stunning piece – a worthwhile investment for your family home.
This is a modern extending dining table that boasts a uniquely designed base that will complement a wide range of interiors so it will surely fit perfectly within your home. The table is complete with a superbly engineered extender system that is exceptionally easy to use whilst hiding all of the mechanisms from sight. The oiled oak finish provides a wonderful and easy to maintain protection whilst beautifully accenting the natural grain of the wood.
An extending table of such magnificent quality is the perfect family dining table for those who are either looking to extend their family in the future or are avid entertainers – If you love to host dinner parties regularly it is always important to have enough seating space, but also convenient to be able to save on space in the mean-time.
Of course the set would not be complete without the OLTEN CAPPUCCINO DINING CHAIR IN OAK FINISH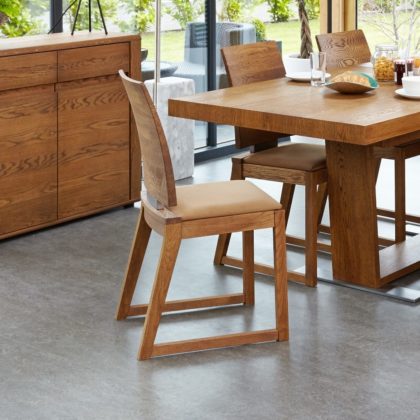 these come as a set of two modern dining chairs with beautifully upholstered seats complete with a luxurious, hardwearing fabric in Cappucino shade.
Notice its modern design that features a contoured and flexible backrest, making this a supremely stylish and extremely comfortable chair. And if that's not enough to get you excited about this exceptional set of dining room furniture; it's all made from the highest grade solid oak! Oh and to top it all off it can be all yours for less than the regular retail price – only at Bathrooms and More! All of our items come with free delivery to your door so stop messing around and get your order in today.