Does your furniture leave the right impression about you & your home?
First impressions are everything and I can prove it: The fact that I've started this article off with such an overworked cliché has likely lead the reader to believe that I, the writer am somewhat lacking in imagination. That was by my design. We all have the capacity to create an impression and that is the beauty with decorating your own home: What impression do you want to give others when they enter your world?
Naturally the first area that people will see as they enter your home is the hallway; a largely neglected part of the house that can speak volumes to all who enter. In my experience most hallways tend to be cluttered with piles of dirty shoes, broken umbrellas and coats that rarely get used. With a little bit of care and attention you can easily transform your hallway from a congested corridor into an open and harmonious throughway.
De-clutter the entrance of your home
The first step that I would recommend when looking to redecorate your hallway is to invest in a shoe cupboard to reduce the amount of clutter. Check out this Heyford Rough Sawn Oak Shoe Cupboard for example: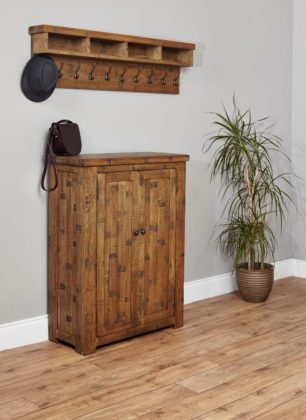 As you can see this is a stunning and functional item of furniture with a hidden shelf for storing your essentials: keys, money etc. The perfect piece of furniture designed to help keep your hallways nice and tidy.
This eye-catching and carefully crafted piece of furniture is made from rough sawn oak and hardwood panels and comes complete with a resilient lacquer finish. Tastefully designed with a rustic air about it; the Heyford Rough Sawn Oak Shoe Cupboard will fit wonderfully in all manner of decors.
Keeping up appearances
Another fantastic way to improve the aesthetic appeal and to create a more spacious vibe in your hallway is to throw a mirror into the mix. Not only is this practical for checking your appearance before leaving your house, but it also helps to significantly 'open up' tighter spaces. Check out this Urban Chic Mirror for example: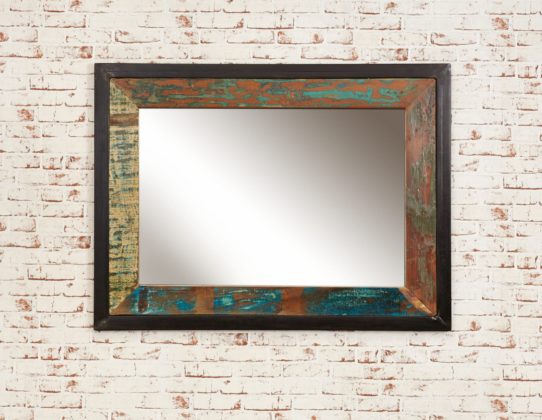 This unique and contemporary mirror is made using salvaged and reclaimed wood from derelict buildings in Southern India. All of the wood is generally aged between 50 and 150 years old and is refurbished by skilled craftsmen and transformed into colourful and interesting furniture. The perfect addition for the modern home, especially for those who are particularly conscious about the environment.
Stand out
Depending on how much room you have in your hallway it could also be a great idea to place an additional feature in order to bring the space to life. Really use your imagination and plan carefully, though if you need a little inspiration you should take a look at this gorgeous Urban Chic plant stand/lamp table: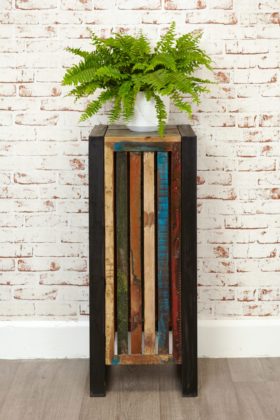 Not only is this piece aesthetically stunning, it is also the perfect feature to stand a plant on. Adding a little green to your home is the perfect way to inject a little life into it. This item coupled with the Urban Chic Mirror make an irrefutably wonderful match and will surely transform your hallway from dull and lifeless to vibrant and enticing.