Check out our Subtle yet Inspiring Christmas Bathroom Ideas
So it's almost Christmas time…again, which means it is time for us to start getting all festive and cheery. It's not always as easy as it sounds, given that it's a cold and miserable time of year, but with the right approach we can all spread some cheer. (It's also apparently that time of year where everything has to rhyme)
Whilst we're on the subject of Christmas cheer, we've been looking into ways to brighten up your bathroom and get the family in the festive mood. Now, we all have that one neighbour who likes to go a little overboard with their decorations, but for those of you who want to tastefully add a sprinkle of magic to their bathroom this Christmas then this article is for you.
We did come across some rather…odd Christmas Bathroom ideas for example; the Santa Toilet Cover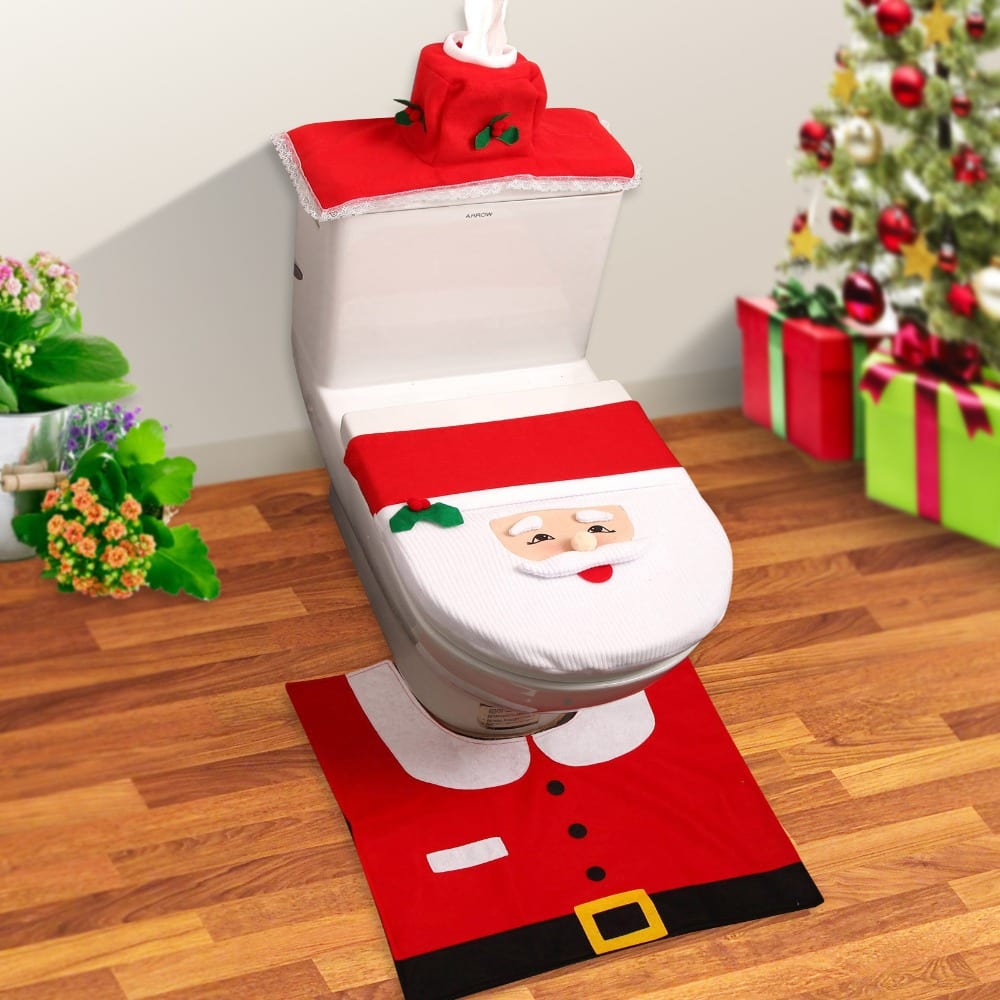 I don't know about you, but if I was on a busy shift, delivering presents to every single home in the World and I stopped for a quick toilet break only to discover my face plastered all over the loo…Well, I'd put the presents back in my sack, shot the Scotch that was kindly left out and shoot straight back up the chimney.
There are other ways to get festive folks, and creepy Santa Toilets are not the way!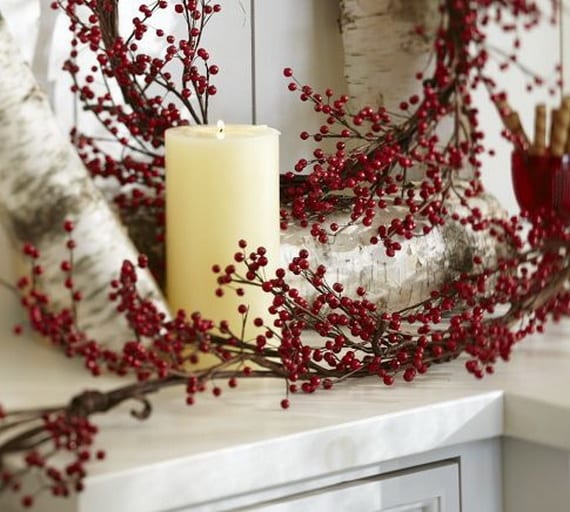 Natural, Festive Vibes
Try adding some Holly branches to your bathroom, or tastefully scatter some red berries around on display. This is the perfect way to create a more naturally festive vibe in your home. The beautiful contrast of the red and the green are the two most prominent Christmas colours and they will surely get you in the mood without having to purchase anything too tacky.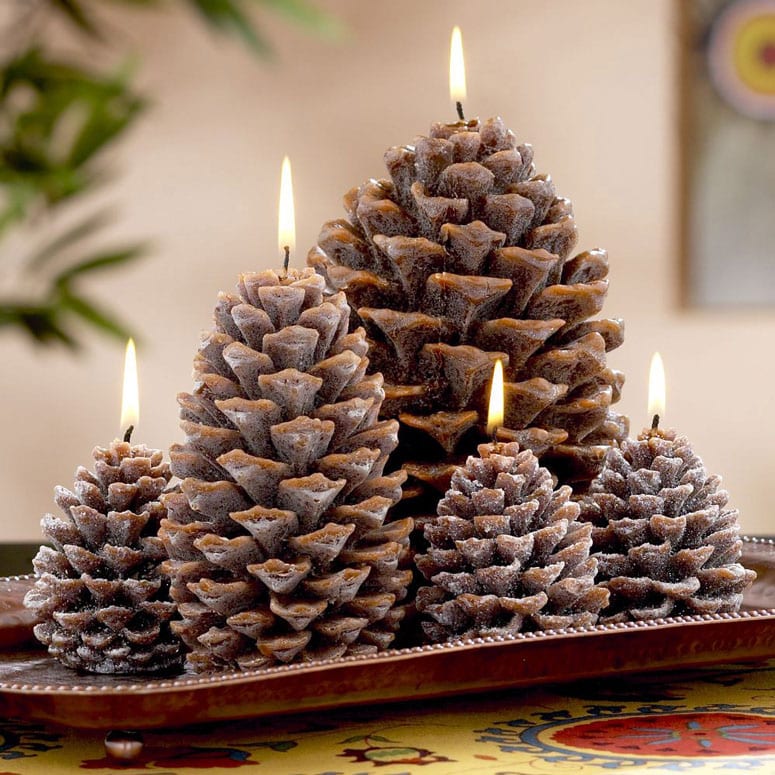 Lighten it up
No, they are not real pinecones being set on fire, that would be a recipe for disaster. They are in fact candles that look like pinecones, amazing I know. You can't really go wrong with candles in the bathroom at any time of year, but if you really want to make things extra special while either you or your loved ones are taking a bath, then something like these beautiful Pinecone candles would be an incredible addition.
You can be as creative as you like with this. You can either buy some ready made candles, or get your DIY on and fashion your very own festive candle holders. Use your imagination! It may even be a good way to get the family working together and having some fun.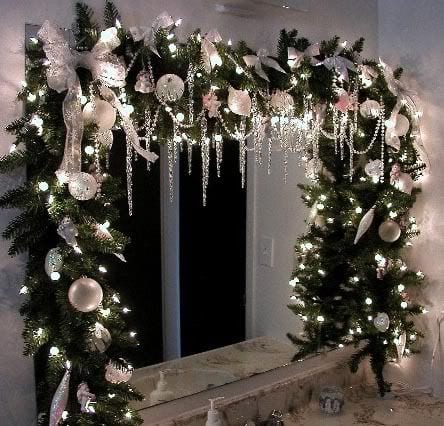 A Time to Reflect
You don't necessarily have to go all out when decorating your bathroom, but by simply adding a bit of tinsel, or some fairy lights to your bathroom mirror you can really add a wonderful festive vibe. Every morning when you wake up and look at yourself in the mirror you will be reminded…it's almost time!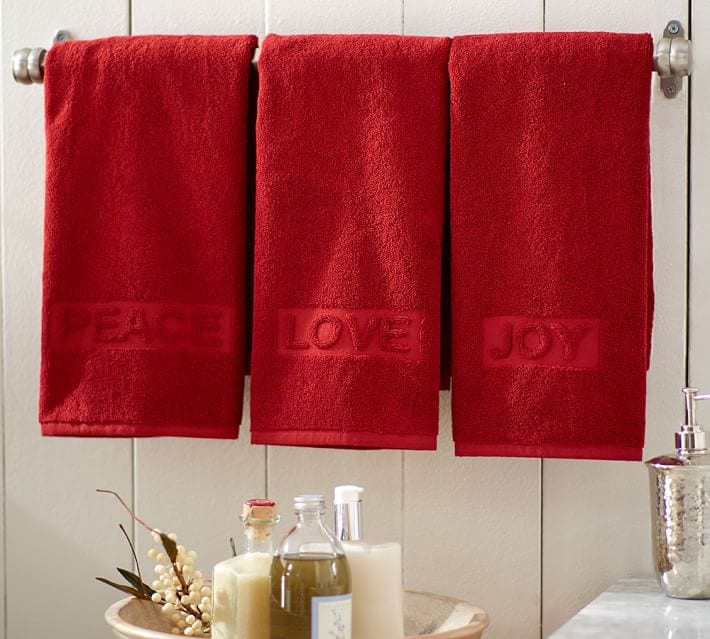 Accessorise
Another great way to Cheer up your bathroom this Christmas is by swapping out your old towels for some new, festive ones. You can find all manner of towels with various patterns on them. You may wish to keep it simple and invest in some plain red towels so that they can be used throughout the year – or perhaps you'll want to go all out and have the loudest, most Christmassy towels ever!
Ultimately, Christmas is about having fun! So enjoy the process, come up with some creative ideas and kit your bathroom out however you see fit. Have a wonderful Christmas from Bathrooms and More Store