Glass Corner Bathroom Basin Tap & Plug Set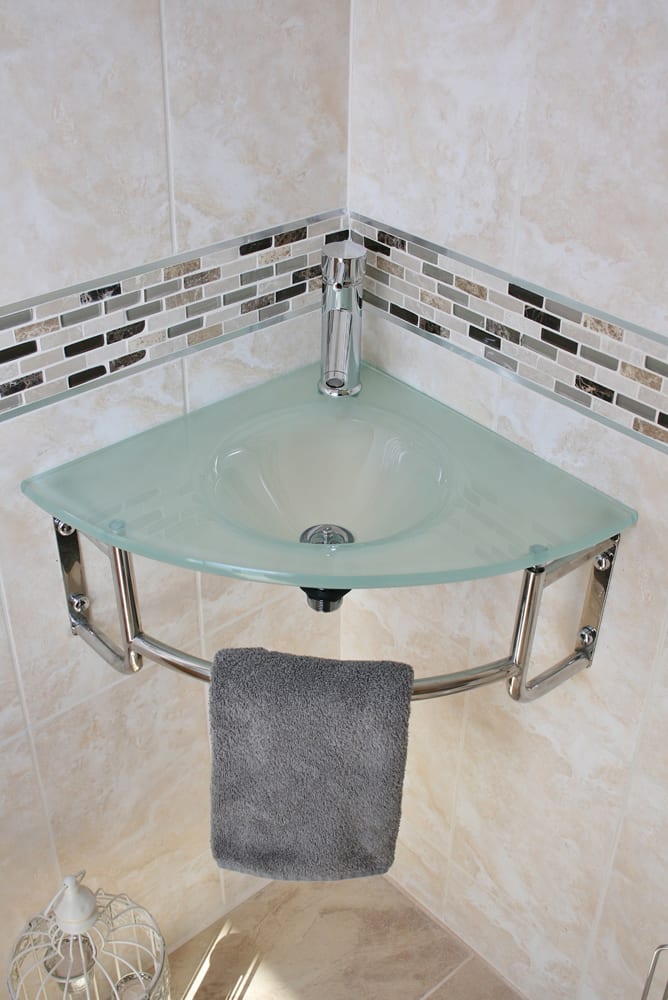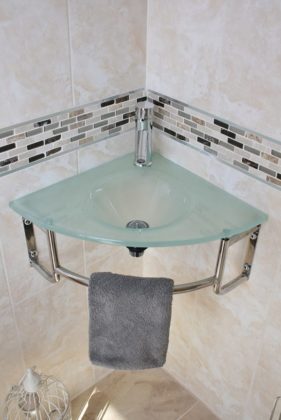 There was a time when glass fixtures and fittings were seen as ultra-post-modern and very space age.  However the 1960's are long behind us and glass fixtures and fittings are now a standard option any home owner has open to them.  From the wide selection of basins and sinks on the market, choosing the one that's best for your bathroom is trickier than you might think.
Materials
This corner basin is constructed from a single blown piece of toughened safety glass.  This glass has been tempered during manufacture so that compressive stress is better distributed across the basin and it can withstand significantly higher pressures and impacts than regular glass. To be legally classed as safety glass the product has to be able to withstand a large force being applied to it, in the case of toughened safety glass this is in excess of 100 mega Pascals depending on the item being rated.  Another important feature of safety glass is that if it should be broken it will not shatter into dangerous and jagged pieces; instead it will break into small cuboid or rounded pieces, depending on the manufacturer.  All of these features help to ensure that the glass will always be as reliable as is realistically possible to make sure that your family are protected and can trust the integrity of the product.
Design
Given that this basin is a corner design it will easily fit into a smaller space than a full sized basin.  This makes it ideal for small bathrooms or toilets; in fact basins such as this are commonly used in houses that have secondary toilets away from the main bathroom as they are often significantly smaller.  That is a real advantage of this basin; it ensures that there is plenty of room in a cramped space without compromising on style and aesthetics.  It is fixed by using the included chrome wall mounting which doubles as a towel rail, again saving space in a smaller room.  These fixings ensure that even if your walls are a little uneven and the basin doesn't fit perfectly, it can still be mounted securely, allowing the installer to finish with some silicone around the edges to seal in a fantastic look.
Tap and Plug
Complementing the chrome mounting rail is a chrome pop up plug that perfectly offsets the wonderful frosted glass finish of the basin.  This plug comes with a robust seal and is the standard UK size so that drainage can easily be connected by the installer
Also included in this set is a similarly designed chrome mixer tap that seamlessly integrates into the style set by the pop up plug and mounting rail.  The chrome design has a single spout that delivers the water comfortably into the centre of the sink so that the water isn't dribbling out right at the edge of the basin and splashing everywhere like some lower quality taps can.
Conclusion
This is a fantastic set that offers brilliant value for money whilst ensuring that quality and style are always at the forefront of the design.  Having a basin such as this one installed in a smaller toilet or bathroom will really make a big difference to the space and layout of the room and it will provide a really eye catching and functional feature.  It may be installed in a small room, but it will leave you wanting to show your friends your smallest room first.