When renovating a home, the hallway always tends to be left to last. And of course, there's a logic to that. As when it experiences a lot of traffic, dragging various items of furniture up and down the stairs, running dirt & dust through the house and so on, it makes little sense to finish it first.
However, what often happens, is that after spending months working throughout the house, when it comes to the final piece of the puzzle, we tend to get lazy. Certainly, a home renovation is exhausting, but that's not to say that you shouldn't pay attention to a very important part of your home.
Consider this: the hallways is where the first impressions of your home take place. It's the first and last thing that people say when they come to visit you. So, you don't have to go too crazy with it. But you should definitely give it some love. And we have the perfect solution!
Check out this gorgeous Halifax Bench & Basket Set. It's stunning, discreet, and yet fully functional as well. So, not only will this fit wonderfully into your hallway, but it will also serve a clear and useful purpose.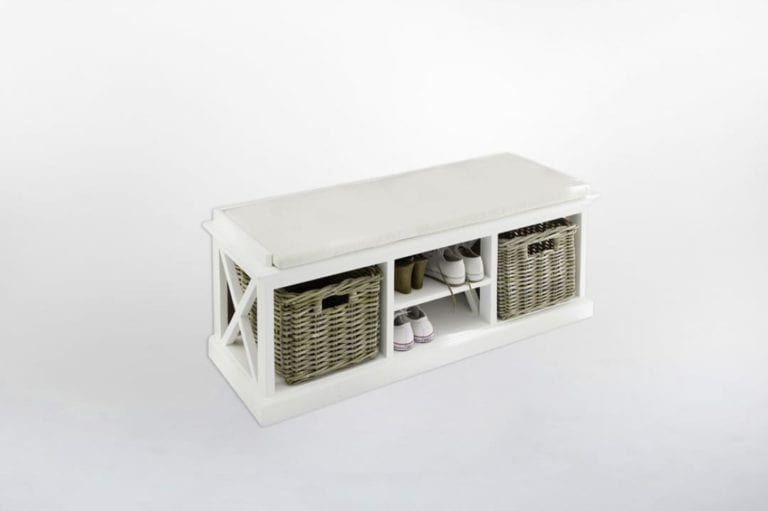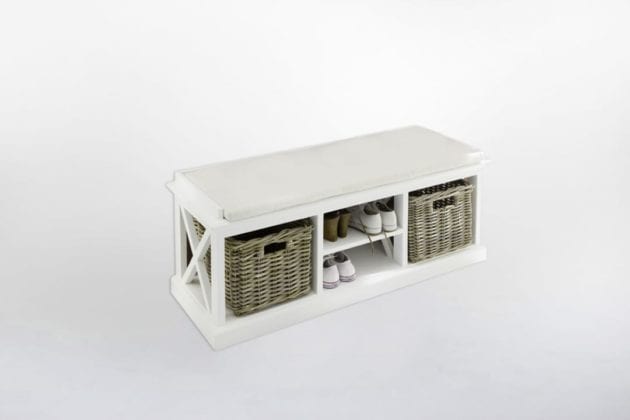 Here's what we have to say about this piece, as featured on our website: Low profile combination bench and storage unit offers appealing storage options, with its smart combination of hand-woven palm baskets and shelving. And, when needed, extra seating can be provided in a pinch. The flared crown moulding, rustic baskets, and painted finish, all work in unison, to create this unique piece.
A comfortable start to your day
In the mornings when it's time to leave the house and commute to work, we tend to feel quite stiff. So, the last thing you need to be doing is bending over and struggling to pop on your shoes. The beautiful thing about this bench, is that not only can you sit down comfortably to slip into your shoes, but it also offers plenty of storage for you to keep the many pairs tucked out of the way.
The last thing you want is to come home to find a house littered with dirty shoes all over the place. Instead, they should be tucked away neatly into individual baskets, keeping your house clean and tidy. Whilst this piece doesn't come with the cushion shown in the image, you can customise it however you like. Why not try a couple of individual patterned cushions instead? Whatever the case, you'll absolutely love coming home to this.
And a welcoming sight when you return
Imagine after a long hard day, and you can plonk yourself down on the storage bench for a moment so that you can take your shoes off comfortably. This removes the need for you to stand with one hand leaning against the wall whilst you pop your shoes off. It will also encourage you not to kick your shoes off, creating scuff marks and ultimately damaging them over time. And once you've removed them, you just slide them into one of the convenient baskets underneath, and then proceed to the bathroom for a nice, hot shower!
Storage bench not quite what you're looking for?
If you'd like something a little different, or perhaps you'd like to compliment the storage bench with a couple of convenient shelves, then head over to the shoe cupboard and hallway section of our website. There you'll find everything you need to finish off your hallway and to create a stunning, welcoming and fully-functional entrance to your home.