Spice-Up Your Home with this Charming Medium Blue Cabinet by 'The Nine Schools'
If you are looking to furnish your home with something a little different from your typical 'run-of-the-mill' furniture, then you'll absolutely adore what we have in store for you. This piece is part of our vibrant and exotic 'The Nine Schools' range and is simply perfect for those in search of an eye-catching addition for their home.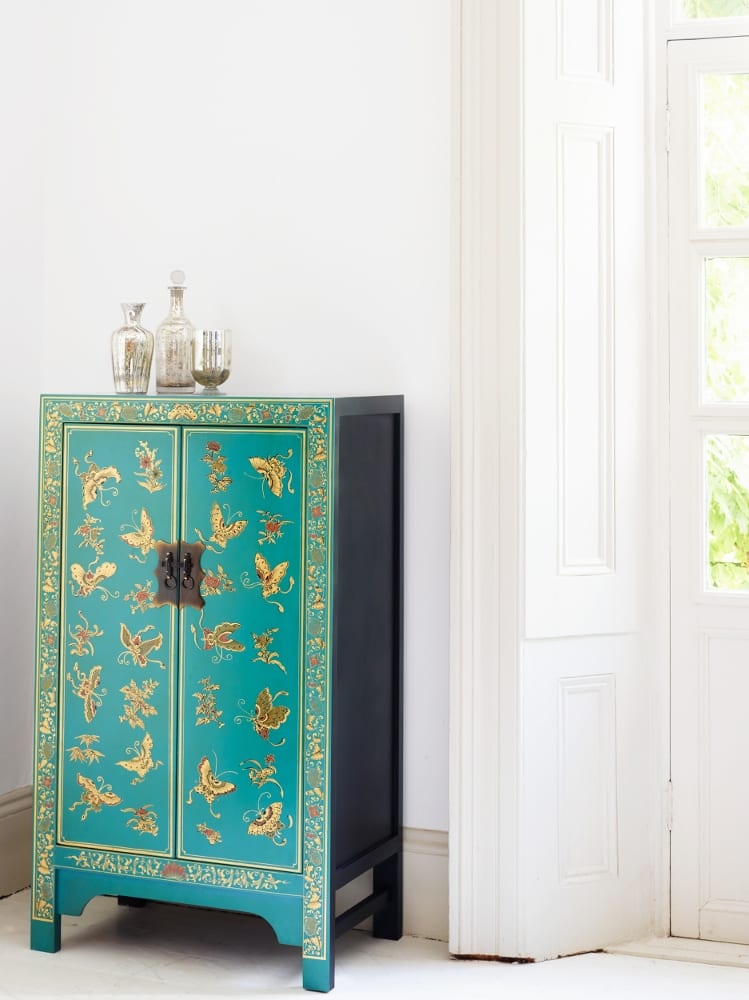 This is an elegant Chinese cabinet that comes in a beautiful blue with a classic Oriental design in Gold Leaf. The grand and bold design with Gold Leaf edging and antiquated metal work wonderfully sets off the striking finish. This is truly a must have statement piece which effortlessly delivers stylish storage solutions to any room in your home.
The most exciting thing about this medium sized cabinet is that it can be used to store whatever you desire. Whether it's fashioning the piece as a liquor cabinet, using it in your bedroom to get all of your beloved trinkets, or even finishing off your bathroom renovation with a refreshing and exotic storage unit.
Whatever the case, this cabinet will almost certainly breathe an air of elegance into whichever room you decide on. And why not? Transform your home with something different, and truly standout among your friends and family. Adopt a truly unique and divine piece of furniture which will spark conversation the moment anyone lays eyes on it.
Features and Dimensions
The overall dimensions of this cabinet are H120 x W70 x D40 cm. The cabinet boasts two internal shelves that are removable, depending on what you decide to store inside.
Each shelf height is 28cm and the overall dimensions of the cupboard are H84 x W66 x D37 cm.
To match its brilliant exterior, the piece is built to an exceptional quality. This is solidly crafted with poplar and plywood, requiring no assembly whatsoever.
All furniture can be delivered between 2 and 3 working days. For those of you who cannot wait and would like to upgrade to next day delivery, you can do so upon checkout.
Love 'The Nine Schools?'
Are you as fascinated by this fantastic piece as we are? If so then you should definitely check out The Nine Schools range and see if there is anything else that takes your fancy. You can mix and match and find the perfect combination of furniture pieces to truly finish off your renovation.