Bookshelves are one of the most underrated spaces. If styled correctly they can create a huge impact on your home. Coming in all shapes and sizes a bookcase easily enhances the décor of any room.
Today, we hope to inspire you with our tips on arranging the perfect bookshelf.

Use the shelves to display what you love, they aren't just for books! Hobbies and interests can be displayed through your children's artwork, decorative plates, ornaments, record collection and other paraphernalia. After all your home should represent you.
Don't be afraid to show off your collections. If you're passionate about something then give it pride of place in your home.
Unite items on shelves by displaying them because of their theme, colour, shape, texture or material. A collection of things together gives a bigger effect. A grouping of white or other light toned objects looks sensational on dark wood or brightly painted shelving, much stronger than if they were standalone.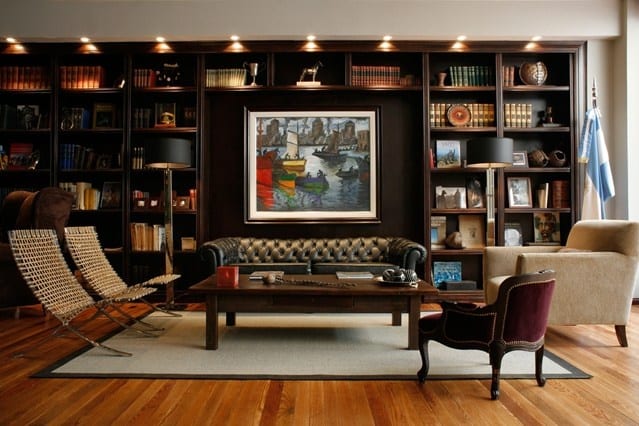 You don't want it to become a dust collector. Be bold with display decisions. Make sure you can see what's on the shelf from the other side of the room. Use large vases and bowls to contain smaller items or fill with a floral display for a truly dramatic result.
It's far too tempting to be symmetrical. Forget it and go odd. An odd number of items or misplacing of two similar picture frames adds a subtle and interesting surprise. Changing the heights of the shelves (unless they are fixed in) will aid in your asymmetrical efforts, as well as allow for use of larger pieces.
Bookshelves are obviously the primary storing unit for books, the clue is in the title. But they don't need to be lined up like soldiers! Stack books of various size to act as a riser for other items making it more eye-catching.
As well as height, think about depth. Place larger items such as plates or pictures as a backdrop and work forward with smaller items. This ensemble will invite visitors to linger over what treasures can be discovered. Remember to spotlight your arrangements or all your hard work will be a waste.
The beauty of a bookshelf is that you can easily rearrange the items to create a completely different look. So you've really got nothing to lose. To help you, check out the bookshelves we offer at Bathrooms and More Store.