Make your bathroom look even more luxurious (Part 2)
Take a step further: Get rid of your dirty old bathroom mats! Do away with those tacky, rubbery bubbled floor-pads and take it a step further…the most luxurious bathrooms feature lavish rugs and stunning Persian carpeting.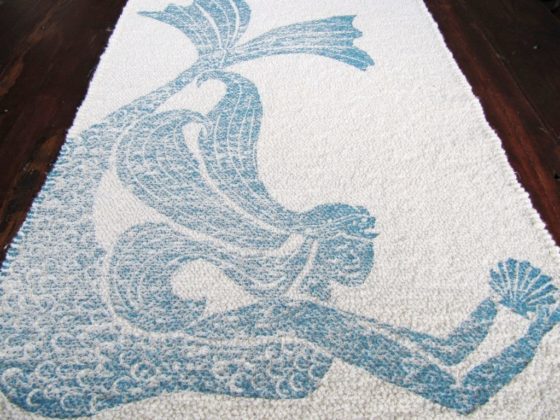 The tufted wool is not only soft underfoot but also serves as the perfect substitute for a bath mat. The gorgeous colours and patterns will only look better and better as they slowly begin to fade from use, creating an air of personality and refinement.
Feature a mirror with character: Most people tend to stick the standard, run of the mill mirrors in their bathrooms. If it's not the default medicine cabinet style mirror they'll go for a contractor-grade mirror that can be found in any bathroom store! In order to really mix it up a bit and create a more sophisticated style in your bathroom then you may wish to try something a little different.
Take this darling Urban Chic Mirror for example: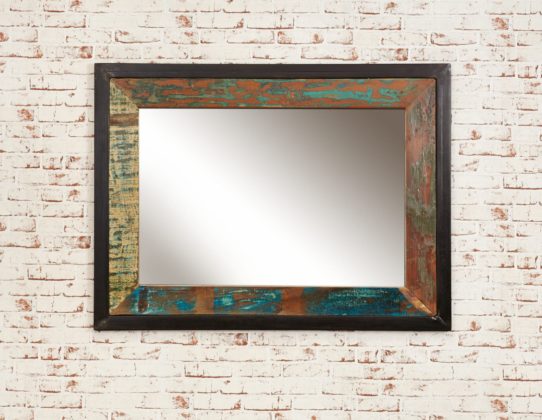 this item is not your everyday mirror. It has been carefully crafted using reclaimed wood up to the age of 150 years old from abandoned buildings in Southern India. You can't ask for much more character or personality than that! It's clean, green and environmentally friendly, and using a mirror like this for your bathroom will most definitely make a statement.
A place to hang your hat: One thing that great designers are always very good at is installing hooks and rings for hanging all of your essentials. There is nothing worse than seeing towels piled up on the floor. Why not install a practical towel rack radiator and a hook for your bathrobe on the door?
Simple additions like these can really transform your bathroom into a practical yet luxurious haven. Check out this Towel Ladder for example: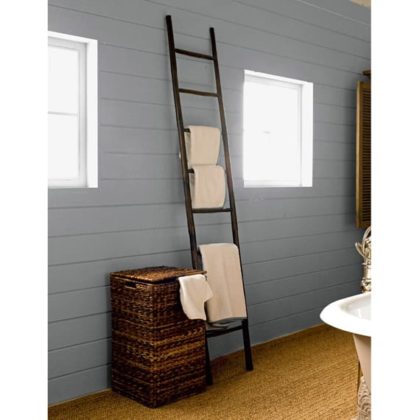 such a simple item can be implemented into your bathroom at very little cost, while transforming it into a stylish and trendy looking bathroom.
Shine a light on it: Lighting in the bathroom is almost always overlooked, and yet it can have a most significant impact on the overall look and feel of the bathroom.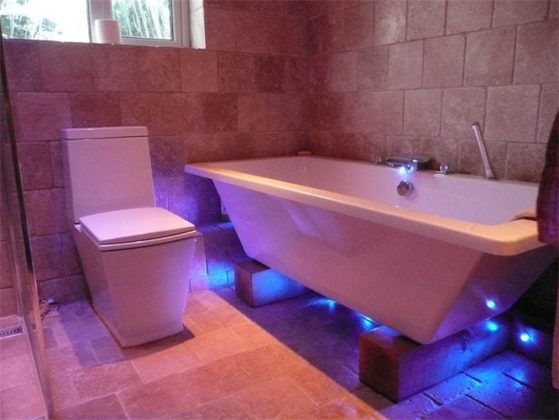 Not only can effective lighting create a more relaxing and soothing atmosphere in the bathroom, but it also does wonders to turn a bathroom from the average run-of-the-mill washroom into a bright and well thought-out escape that simply breathes elegance and poise.
Kiss my Brass: Chrome is arguably the most common and basic of bathroom finishes, and while it is beautiful and effective, there certainly isn't much of a buzz about it. Brass or Copper on the other hand can really add a touch of luxury to the bathroom. You don't even have to go nuts and replace every faucet, as it certainly isn't cheap! But the odd hand-mirror or soap dish can really go a long way to making your bathroom feel a damn-sight more sophisticated.