Make your bathroom look even more luxurious (Part 1)
The bathroom is certainly a safe haven where you can truly be by yourself for a moment of reflection and rejuvenation. This is why it is so important to inject a little love into the renovation process when you're looking to upgrade your bathroom.
Being one of the most frequently used rooms in the house (particularly when you have guests over) it is vital that you afford your bathroom the care and attention that it deserves. After all, every morning that you wake up and every evening before you go to bed you spend some time in the bathroom. You want to create an air of luxury in the bathroom if you are to truly get the most satisfaction from it.
There is nothing worse than stepping into a bathroom and feeling dirty – Toilets and sinks that have been allowed to fall into disrepair, chipped tiles and mildew, old, worn colours; the stuff of nightmares! So, below is a list of things that you can incorporate into your bathroom in order to create a greater sense of value and luxury.
Fancy wash basins: While ceramics and porcelain are certainly the most common and practical materials used to create wash basins, they can somewhat lack a little extravagance. Take this luscious Grey Marble Bathroom Basin Tap & Plug for example: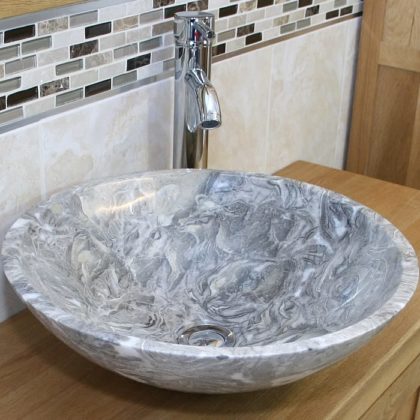 this item is incredibly well priced for such an imposing and stately item. The natural patterns and smooth texture of this basin is what really sets it apart from other basins that are more common in their appearance. Adding something like this to your bathroom is a highly effective way of creating an expensive air about your bathroom without going overboard on your expenditure.
A place to perch: Most high-end and expensive bathrooms will typically feature some form of seating, whether it be a simple stool or an ornately carved armchair. Not only does such a simple feature add an accent of opulence, but why paint your nails on the toilet when you can be perched on your very own throne?
If your flooring is tiled or laminated in your bathroom then you may wish to consider using some protective pads if featuring furniture. Check out these for example: 24 Small Round Floor Furniture Protector Felt Pads: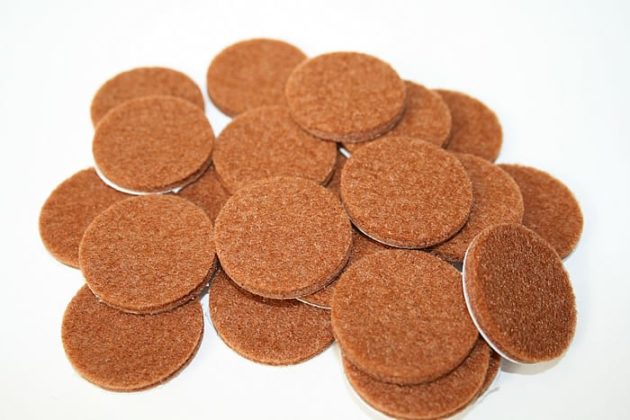 Simple and easy to use – peel the back and apply to the feet of your furniture, then voila! – Your floors are safe from further scratching.
Contain your toiletries: Many people prefer to keep their toiletries stored away under the sink, out of sight; however you'd be surprised how effective the traditional display features can be when trying to create a more elevated aesthetic in the bathroom. Store your soap in a dish, keep your Q-Tips in a glass jar, and throw your toothbrush into a stunning glass tumbler. Purpose built displays can significantly help toward turning your cluttered bathroom into a refined and practical arrangement.