Four simple tips on how to make a pokey room feel more sizable
It's not impossible to make a smaller room seem to be more spacious, it's merely a matter of applying a few simple tricks that can convince the mind that a space feels roomier than it actually is.

Space it out: For example, angling your furniture as opposed to pushing them into a tight corner. If you do what feels natural and cram a sofa against the wall in order to save space you are actually making the room feel more squashed – having breathing room around your furniture lends the appearance of more space. It just means that you must utilise the space behind the angled furniture in order to get the most out of what limited space you do have.
Lighten up: Using lighter colours with your décor is actually a much more effective way of opening a room up as opposed to using darker colours. Granted, while dark colours are most certainly design friendly, colours such as cream, white, grey and pale blue can really open a room up and make it feel light and airy.
Twice as nice: If you invest in furniture that is multifunctional you can really streamline a room much more efficiently and make the most of what limited space you do have. Check out this Heyford Rough Sawn Oak Coffee Trunk for example: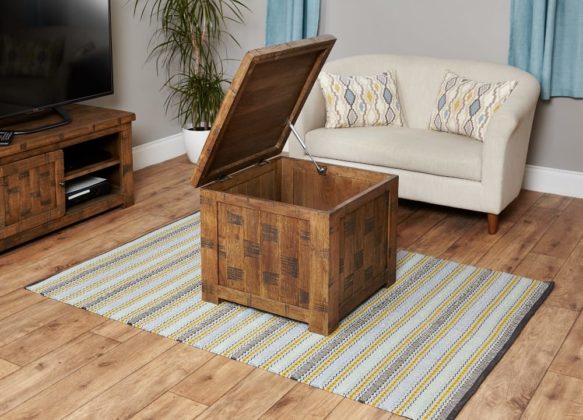 this is a unique and innovative design that allows you the additional storage space while still serving as a gorgeous and practical coffee table. It is an exceptionally built piece, using rough sawn oak and hardwood panels that are each finished with a satin lacquer that is hardwearing, yet emphasises the stunning oak grain.
Mirror, Mirror: Mirrors are arguably the quickest way to make a room appear larger. Of course, having wall to wall mirrors isn't necessarily going to look great, nor will it make you feel very comfortable- if you lean a large, full sized one against a key wall however you can really make a statement. For example this Heyford Rough Sawn Oak Chunky Wall Mirror would be the perfect addition!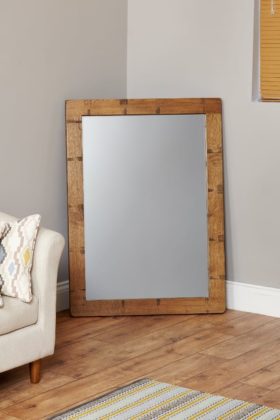 It is bright, bold and eye catching and is constructed using rough sawn oak and carefully selected hardwood panels. This beautiful piece comes complete with wax fixings on the back of the mirror so that you can position it in either a horizontal or portrait orientation – that is of course, if you decide not to lean it up against the wall which can also be a very powerful move.
So don't panic! There are ways in which you can make your home feel more comfortable and a great deal more spacious. These tips are great ways to make the easily claustrophobic feel at ease when entering smaller rooms. Check out the Bathrooms and More Store website for a great selection of items that will certainly fit perfectly in your home.