Check out this Stunning Coffee Table from Our Coastal Chic Range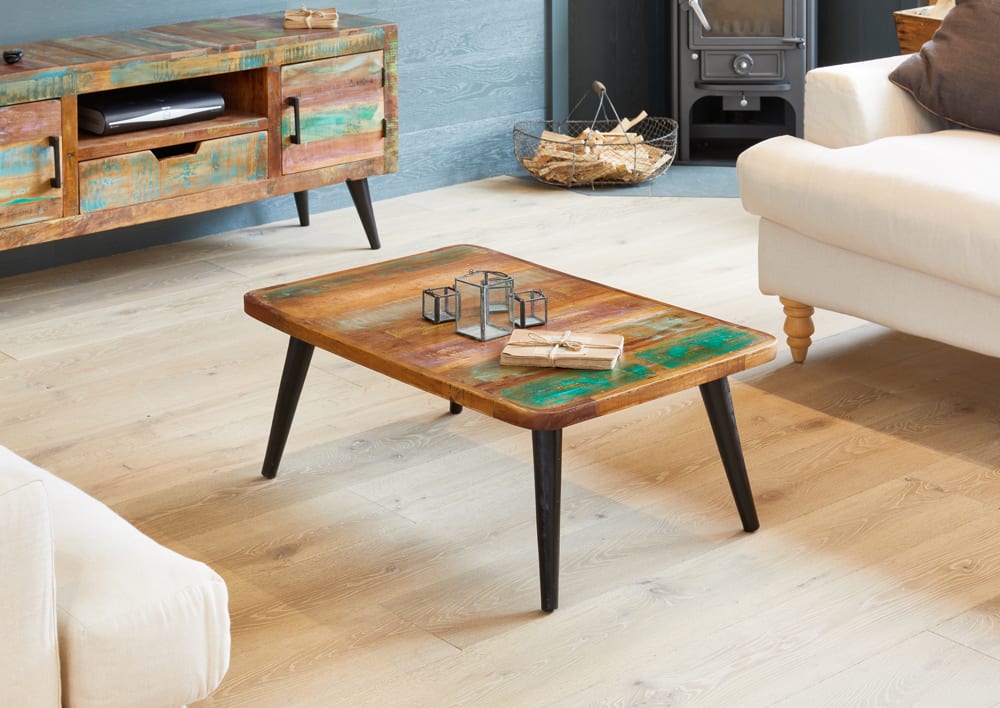 What Makes this Coffee Table Unique?
Our new Coastal Chic range of furniture breathes vibrant colours into reclaimed timber, creating a truly unique and beautiful blend. This coffee table in particular will fit wonderfully into your living room or lounge area; particularly if you are trying to brighten the place up a bit.
Again, this coffee table has been made using reclaimed wood, salvaged from areas in Southern India. That's right, all the way from India, to your living room – and what makes this range so awesome is the fact that some of the reclaimed wood is aged between 50 and 100 years old! Don't worry though, it has been repurposed and assembled by skilled and passionate craftsmen for your peace of mind.
In fact, despite the age of the wood, our Coastal Chic range (not unlike all of our furniture) is of an exceptional build quality and has been designed to last a life time. We're not in the business of selling cheap rubbish, but beautiful and high-quality pieces that will irrefutably breathe an air of sophistication throughout your home.
And what could be more intriguing than an entirely unique piece of furniture? No two are the same, due to each piece using a unique set of timbers and assembled by hand.
The coffee table is complete with sturdy iron legs and the overall dimensions of the coffee table are H35 x.5 x W90 x D60 cm.
Notice the glorious colours, the wood is finished with a resilient satin lacquer which effortlessly emphasises the colours and the timber's undeniable character. The lacquer is hard wearing and offers great protection, so you don't have to stress to much if someone forgets to use a coaster for the cup of tea!
Environmentally Friendly Furniture
Given that most of the timber used to construct our Coastal Chic range, you can pride yourself in purchasing environmentally friendly furniture. Not only will you be purchasing yourself an incredibly stunning and unique piece of furniture for your home, but you'll also be contributing to your planet, by re-using its natural bounty rather than seeing it go to waste.
Therefore, the Coastal Chic range is one of my favourites. They look great, they're well-priced, they're sturdy and serve a clear purpose and above all else – they're eco-friendly. Win, win, win.
If you're particularly interested in the Coastal Chic range, follow the link where you can explore a number of other stunning pieces. Why stop at a coffee table when you can go for the sideboard and all?