A new vanity can really tie the aesthetic of your bathroom together by leveraging one of the key focal points (I.E the sink and mirror) of the bathroom to bring some body to an otherwise empty and neutral space. However, having a vanity made from wood, while in keeping with a wide variety of designs, does require some amount of maintenance and upkeep in order to keep it looking as great as the day it was installed.
Luckily, maintaining a wooden vanity is an easy task even for the most novice of woodworkers, but like any home maintenance and improvement, it's important that you thoroughly research exactly how to maintain your bathroom vanity to keep it looking great and remaining functional for years. So let's take a look at some of the most important steps in this process:
Tips to clean Wooden Vanity units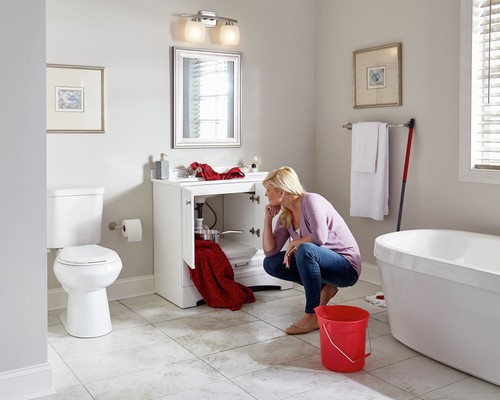 Regular Cleaning
While this may seem obvious, having a spotless vanity and sink can go a long way to improving the overall aesthetic of your bathroom, and not may people think to give their vanity more than a wipe down with a cloth when wet. However, periodically scrubbing and thoroughly polishing with specialized polish can really bring out the best in your bathroom vanity, as well as helping build up the protective layer across the wood known as "patina".
Maintaining the Sealant
The sealant which holds the vanity together and protects the plumbing from leaking water onto the dry parts is crucial in keeping the vanity looking great, one rouge leak and your vanity can become damp, damaged, and potentially moldy. Make sure that you regularly survey both the vanity and the sink in its entirety in order to assess whether2 the sealant is still holding and where it could be replaced. This is done by shutting off all the water connected to the sink and then feeling wether the sealant still feels smooth and firmly attached. Any loose, frayed or damaged sealant should be carefully removed with a craft knife and reapplied using a sealant gun.
Mold
As with any environment that handles large amounts of hot water, the potential for mold to develop can be in any part of your home's plumbing. While this risk is kept to a minimum with proper maintenance and care of your plumbing, people often forget about their bathroom sink vanity which can oftentimes become a breeding ground for mold, some of which can be extremely hazardous to your health if their spores are inhaled! Keeping mold out of your bathroom is all about keeping the water elements of the plumbing away from any dry components in order to ensure there is little standing water for the mold to survive on. Also making sure that proper repair and drying of any surfaces that leak or flood is also essential.
Repairs
Making sure that all surfaces that become damaged or blemished through normal wear and tear are properly repaired is also an important element of keeping your vanity looking great. Scratches and water spots are bound to happen as you use the sink for day to day tasks and making sure that these are repaired with regular light sanding and varnishing in these areas will keep the wood looking uniform and clean for years. It's best to complete this work at least once a year, in order to not be constantly having to sand and varnish for every small blemish.
Doors
As anybody who has lived with a vanity or cupboard with lopsided or uneven doors will tell you, it really throws off the visual appeal of the area in which it is located, as well as being extremely annoying. As well as looking less than perfect, it also presents a problem which will only get worse as time goes on and the hinges of the doors are used repeatedly over time. Luckily readjusting the doors can be as simple as lining up the doors so they match up and then re-screwing the hinge attachment back into the door!
Hopefully this will give a little more insight as to how to properly care for your bathroom vanity, obviously, this is intended as a rough guide and further information should be sought to understand the individual tasks in detail. However, with regular care and attention, a few simple DIY and home maintenance can go a long way to getting the most out of your bathroom vanity and keeping it looking great and staying functional for years to come.