My experiences with exotic toilets from around the world.
There was a time when I was a little uneasy when it came to pooping in public. (And by pooping in public I mean in a public toilet and not literally pooping in public) This wasn't because of some irrational fear of germs; I simply wasn't a huge fan of all of the unsavoury noises and smells – and nothing says: 'I'm going for a poo', quite like a splash and a fart.
With that being said you can imagine the look of dismay that flushed over my face when I came across one of these for the first time when travelling through Thailand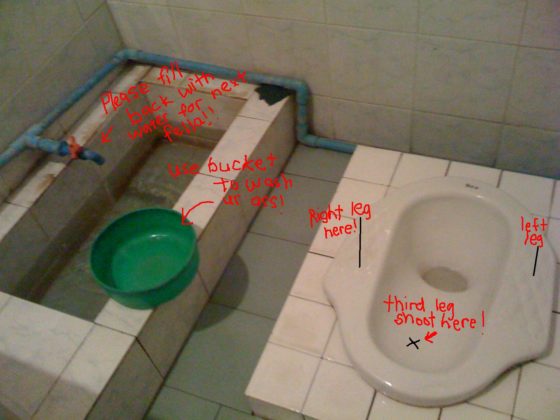 Needless to say if you were a fly on the wall, (or rather, one of many) my first attempt at using one of these toilets would have been painfully awkward to witness. I wasn't prepared for this kind of scenario! My western upbringing hadn't afforded me the correct tools to handle such an alien situation! And believe me, if I wasn't surviving on a strict diet of exotic and spicy cuisine I might have been able to hold off and wait for a more suitable loo; though unfortunately that was not the case.
Now if I'd paid more attention in my P.E classes I might have learned how to squat properly, though I quickly realised that if I were to be able to pull this off successfully I'd have to pull my pants off first. Please bear in mind that when you're really desperate to go to the toilet, carrying out even the simplest of tasks can become incredibly difficult, so taking my pants off without stepping out of my flip flops and onto the soaking wet floor was a little bit of an inconvenience.
After clumsily hopping around the cubicle and failing miserably at keeping my bare feet out of what I can only assume was a floor covered in wee…I then had to find somewhere to rest my pants. At this stage I was just about ready to explode so after half a second of trying to find a suitable place to put them I decided instead to hurriedly wrap them around my shoulders and squat down to business.
For your sake and that of what's left of my dignity I will hold onto the details of what happened between that decisive moment and me finally having successfully cleaned up; though it wasn't ideal. What I will say however, is that it was a life-changing experience and it helped shape me into the man that I am today. When going to the loo in such extreme conditions you truly learn a lot about yourself.
And so the next time you find that you really need to go but you're afraid of using a public bathroom, think of me and my struggles and then enjoy your poo from a comfortable sitting position with your pants resting comfortably where they should be; around your ankles.