Do you have a small and compact bathroom and you are struggling with storage space at the moment? Don't worry, we understand your frustration. There's nothing worse (particularly with a growing family), than having to share a bathroom that doesn't function so well in terms of storage space. After long, having to fight your way through a mountain of makeup products and other toiletries just to find your toothbrush, well, it can become excruciating.
In this article, we're going to look at three of our favourite space-saving vanity units for small and compact bathrooms and even cloakrooms. If you'd like some handy ideas that might just be able to resolve your lack-of-space situation, then read on!
1 – Compact 1-Door Bathroom Vanity Unit
When already struggling for space in your bathroom, the idea of adding a vanity unit to the room likely won't sound like much of a solution. However, this white painted oak top vanity unit is something else! This slender and unique item of furniture will not only take up very little space in your bathroom, but it will stylishly provide you and your family with some hand storage solutions.
Even if it means that you manage to clear and store away some of the toiletries littering the side, it will make a big difference. That, and it can replace your current sink set-up in your bathroom. So, if you have a plumbed in pedestal basin that is perhaps taking up too much space, you can replace it with this compact vanity unit and basin combo and make up for the lack of space by utilising the space between! (or in this case beneath the sink).
2 – Stylish Corner Vanity and Basin Combo
Another amazing item that can really help you save some space in your compact bathroom is this travertine top corner unit and basin. How many corners in your bathroom are unoccupied? Typically speaking, there is much more available space in the corners of an average compact bathroom going to waste. By placing your vanity unit and basin combo in the very corner of your bathroom, you make the most of that space.
This incredible unit in particular has double doors with several shelves and ample storage below. Stylish, practical, and a dream come true for those with tight spaces.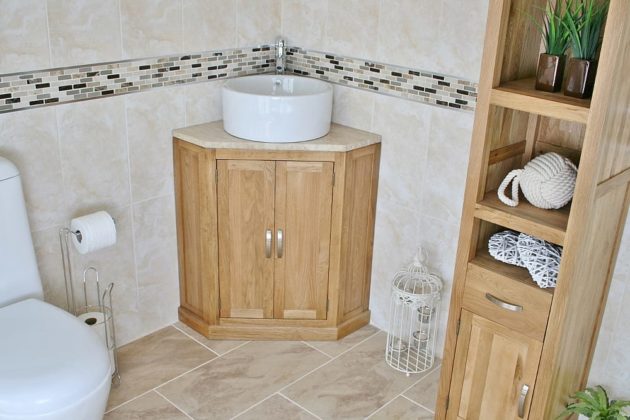 Travertine Top Corner Unit Ceramic Basin Choice 501BTCBC
Bowl Types: Round Straight Sided Ceramic
3 – Stylish corner floating vanity & basin
This corner vanity unit option is very similar to the option above, only without the vanity unit beneath. It's a small and discreet corner unit the depth of a single drawer. This creates open storage space beneath. So, if it isn't so much storage space that you are after, but you could do with re-optimising the layout of your compact bathroom, then this could be the solution for you. And, whilst the drawer beneath isn't the largest, it will certainly provide some much needed storage solutions.
Bonus: Floating medicine cabinet
There are a number of benefits that come from having a floating mirrored medicine cabinet in your compact bathroom. First of all, you'll be utilising much of the wall space available (we recommend exploring some shelving options as well). But in addition to that, the presence of a mirror in a compact bathroom can actually give it the feeling of being more spacious.
When you enter a compact bathroom, such as a cloakroom for example, having a mirror that reflects the space behind you opens the room up a bit more. Even though the dimensions haven't changed an inch, you and your guests will certainly feel the benefits of a roomier space.
This mirrored cabinet comes with an oak top vanity unit combo! We even stock vanities and wall-cabinets that fit into the corner as well. Whatever you need, our wide selection of bathroom vanity units will surely provide you with some attractive options!
Conclusion
We cannot stress how important it is to have storage space in a bathroom. Even in a large bathroom, it pays to have storage solutions. Otherwise, the countertops and sinks become littered with all-manner of junk. This clutter can lead to starting your day feeling more stressed and anxious. A clutter-free life is a clear mind!
As such, as recommend a quality vanity unit and basin combo to start making the most of what little space you have available. If you have any questions, or would like to make an enquiry about one of our vanity units, please do not hesitate to contact us today!