Earlier in the week, we took a look at the way the Far East is influencing our bathroom décor and offered up some tips for producing the trend in your home.
Today, we share our ideas for furnishing and accessorising your Oriental bathroom.

Oriental Print Wallpaper
There are many great patterned print types of wallpaper in the market. Wallpapers Direct has a great oriental style selection. We are particularly fond of this Geisha print by Cole & Son; the night sky colours offer a serene feeling with the splashes of colour adding drama.
Oak Vanity Unit
Although dark wood is popular in this trend, it can darken a room making it appear more imposing. Why not use a lighter wood to provide a welcoming environment? This oak piece from Bathrooms and More Store will complement your theme and it can be ordered in a variety of sizes to suit your vanity needs.
Asuka Mirror from John Lewis
No vanity unit is complete without a mirror to use whilst applying make-up, having a shave or moisturising. A simple mirror with a wooden frame that matches your vanity unit is the best. But we do love this full length freestanding Asuka mirror from John Lewis, not only is it a mirror but it's fitted with shelving for some extra storage space.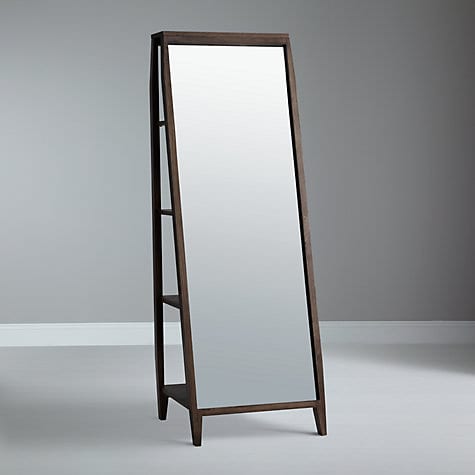 Oriental Screen
Oriental screens are easily portable, provide privacy, block or diffuse light, redirect foot traffic, hide a mess or create a cosy nook. Screens can be functional as room dividers or for screening off an area but they are also wonderfully decorative individual furniture pieces. Check out the selection on offer at theoriginalscreencompany.co.uk.
Ladder Shelf
We simply love a ladder shelf! Coming in a variety of colours and materials they are a great solution to storage. The gradient works back into the wall to make it less imposing in a room without missing out on space. They also look great with most trends but we particularly like this oak version for Cox & Cox to enhance that lighter Oriental feel.
Accessories
The important thing to remember with the smaller finishing touches is that they should be similar. Different styles will offset the balance that is essential for creating an oriental style bathroom. Choosing a colour to carry throughout your accessory choices will eliminate this problem.
For those finishing touches, why not add some Orchids or a Buddha statue to really emulate the Far East?
Have you decided to go Oriental in your bathroom? Have our tips and suggestions helped you to decide? We'd love to hear from you, leave us a comment below or like our Facebook page.