After the Spring rebirth and the Summer rolls around, the sun is shining, the days are longer, and everyone is feeling a lot more energized. And what better a time to give your bathroom a little spruce up then right now?
In this article, we're going to look at some gorgeous wooden vanity units. We have a fine selection of quality vanity units to choose from that can really help to transform your bathroom, improving the overall aesthetic, whilst offering some exceptional storage solutions! Let's have a look…
1 – Grey Painted | Oak Top Unit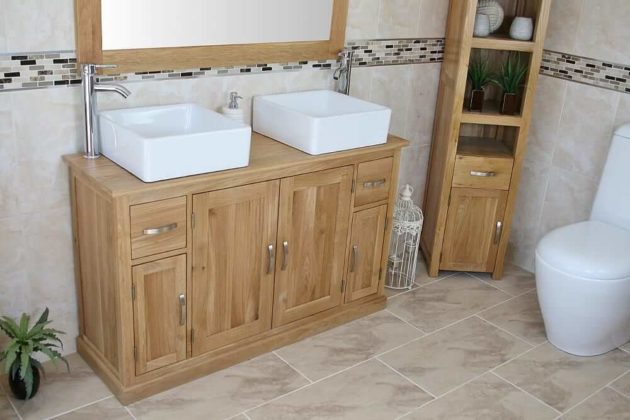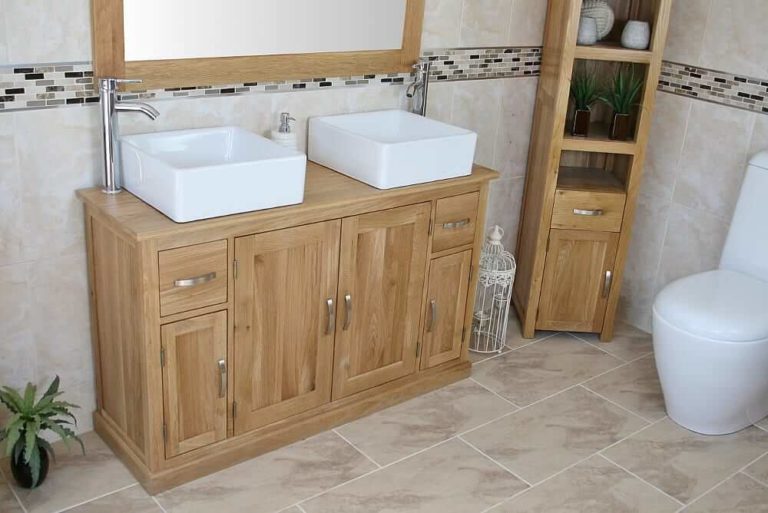 This slim, grey single door vanity unit is ideal for smaller bathrooms and cloakrooms. Whilst there are many different colours and materials to choose from on the BMS website, this dark grey vanity offers a wonderful aesthetic which can fit perfectly into a lighter themed bathroom for additional contrast.
In addition to the wooden vanity itself, you have a choice of ceramic basin to go with it. So, if you're tired of the old and outdated vanity and wash basin in your bathroom, then why not replace it with a stunning piece like this.
2 – Painted White | Travertine Top Unit Travertine Basin
This magnificent painted white travertine top vanity unit is larger than the single door vanity unit, whilst still being slender enough to fit comfortably into a smaller bathroom, offering excellent storage.
The painted white vanity, coupled with a sandy coloured travertine countertop and basin will add a wonderful aesthetic to any bathroom, particularly if you want the space to feel bright and colourful!
3 – White Quartz Top Corner Unit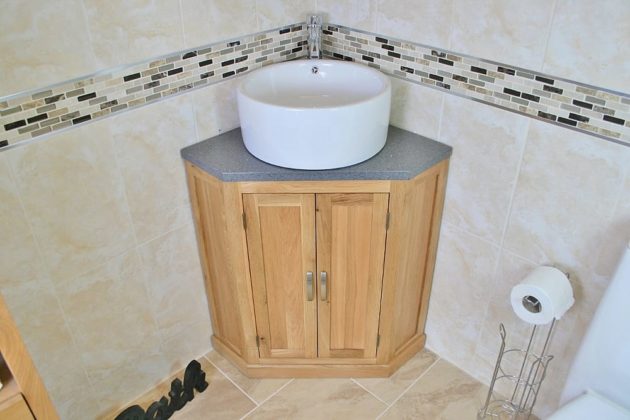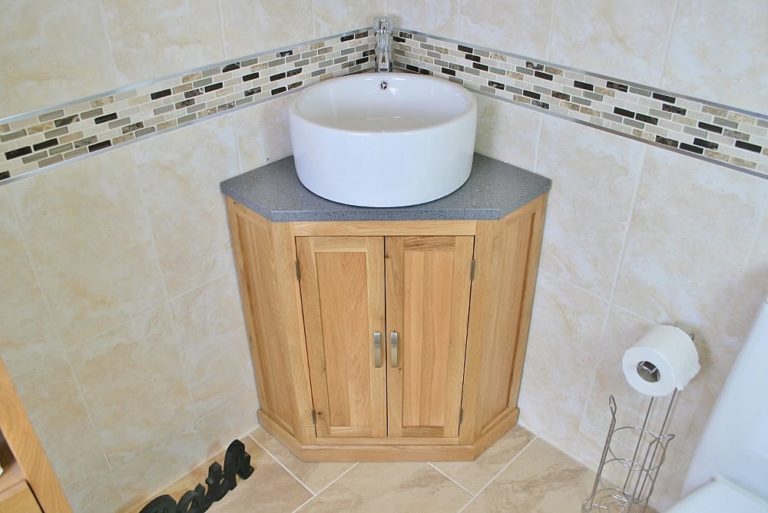 Next up we have a gorgeous, white quartz top corner unit which comes with your choice of ceramic basin. Again, this excellent pierce of bathroom furniture is better suited to the smaller bathroom, or more specifically, a cloakroom. Being able to slot perfectly into the corner of your bathroom allows you to make the most of every square inch of space available to you.
The vanity itself is unpainted, boasting a natural wooden finish, complimented by a white quartz countertop, giving this piece a refreshing aesthetic that fits comfortably in a modern bathroom.
4 – Off White Painted Grey Quartz Top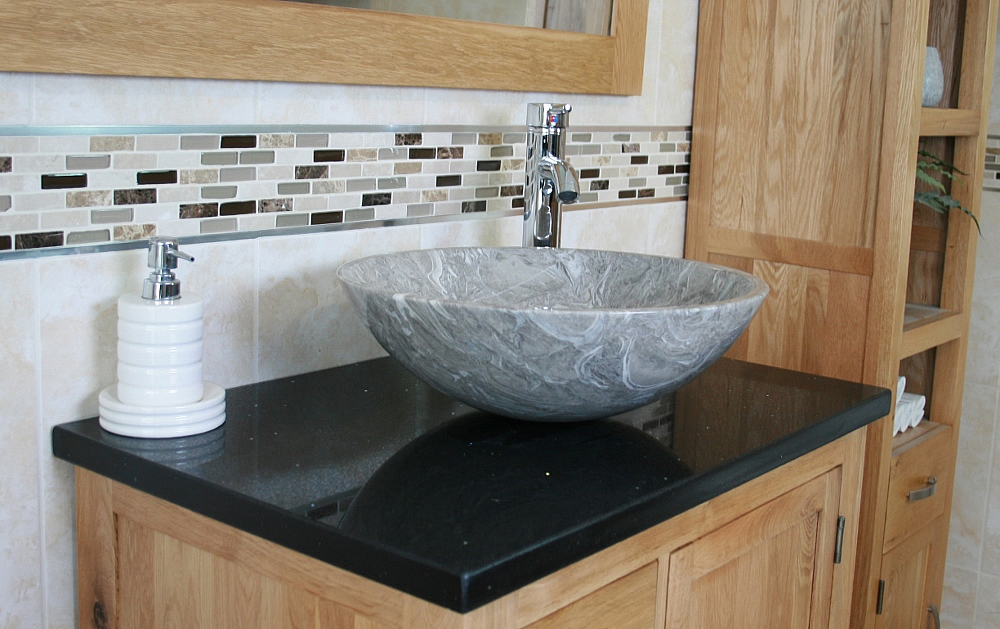 For larger bathrooms that could use some more storage options, you can't go wrong with this sizable off-shite painted grey quartz top vanity with a single basin. Not only that, but you can choose from a variety of ceramic basin options to go with it.
This double vanity unit with a single basin offers plenty of countertop space for displaying your essential toiletries and keeping them to hand, with an impressive amount of drawer and cupboard space below for additional storage solutions. You really can't go wrong with this fresh white vanity, perfect for the modern bathroom vibe.
5 – Off White Large Oak Vanity Unit with Onyx Stone Top Marble Basin Options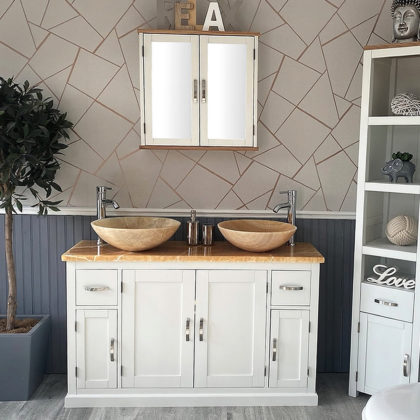 Off White Painted Vanity Unit Golden Onyx Top Golden Onyx Basin 402PGO25GO
Large Oak Vanity Unit with Golden Onyx Top & 2 Golden Onyx Basins
Stunning, luxurious double basin, onyx topped vanity with loads of storage space. Completed with 2 golden onyx basins & chromed mixer taps and plugs.
Delivery: 2-3 working days. The courier will call to arrange a suitable delivery date.
Next Day Delivery :</…
Next up, we have an irrefutably sexy 'his & hers' vanity unit. It is a large, off-white oak vanity, boasting a quartz stone top, with your choice of marble basins to go on top.
If you are tired of having to wait your turn to brush your teeth in the morning and would prefer your very own basin instead, then this his and hers vanity is the perfect solution! No more squabbling to go first, or having to force yourself out of bed that little bit easier to make it in time.
Not only that, but this glorious vanity unit comes with a wealth of storage solutions, allowing you both to keep your toiletries tucked away in your own half. Just be careful, if you don't mark your territory and use up as much of your storage space as possible, your other half will almost certainly start encroaching on your territory and stealing your available space!
Joking aside, it's a stunning vanity with a delightful aesthetic appeal, and it will be a pleasure to have a unit that allows enough space for two people to enjoy comfortably and without stepping on one another's toes!
Conclusion
It's summer! The days are long and the sun is shining bright! Get yourself a glorious new vanity and spruce up your bathroom. You can place your order today and have your awesome new vanity delivered within 2 to 3 working days.