Top 5 Money Saving Tips for Rejuvenating Your Bathroom
Is your bathroom looking a little worse for wear? Are you growing tired of looking at the same old, dated design, but you're a little tight for cash at the moment? No worries! In this post we are going to explore 5 top tips for saving money when restoring your bathroom. You don't have to shell out thousands of pounds on a brand-new bathroom, but there is much that you can do to breathe a little life back into it!
1 – Rejuvenate Instead of Replacing

Not everything has to be brand new! In fact, often all you need to do is rejuvenate certain aspects of your bathroom as opposed to replacing them entirely. For example, if you've got some old tiles that you're tired of looking at, you can always have them re-glazed for a new look. Little things like giving your bath a deep clean and upgrading the faucets as opposed to replacing the bath entirely can really work wonders as well!
2 – Shop Around
It's very easy to impulse buy, particularly when you're shopping online. The best way of saving money when rejuvenating your bathroom isn't necessarily not spending at all but cutting down on what you'd otherwise be spending. Look around for special deals and see if other stores have the same item that you're interested but for a cheaper price. Or alternatively, find something with a similar style with a different material perhaps – You don't have to fork out on marble flooring when there are marble styled tiles which look the part and are considerably cheaper.
3 – Try to Avoid Re-Arranging Your Plumbing
It's not always possible if you're exchanging your bath for a larger shower area, but if you can avoid it, try to leave your plumbing as it is. Moving supply and waste pipes is rather costly and can be a real ball-ache. If it works, don't try to fix it right?
4 – Get Creative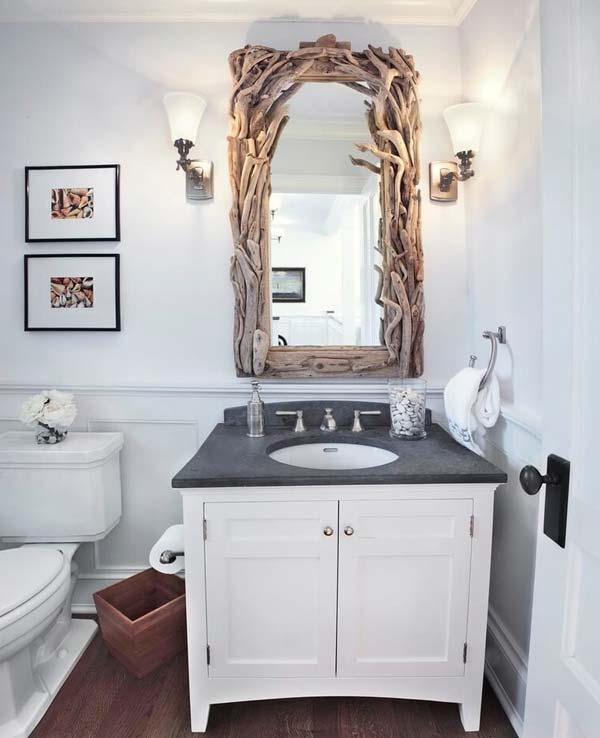 Again, you don't have to buy everything brand-new! Rather than buying loads of accessories for your bathroom, why not experiment and make some of your own? Things like empty jars, tight-wrapped in rope to make nautical styled candle holders; or buying a simple mirror and creating a stylish, home-made frame for it. The only limitation is your imagination!
5 – Recycle and Be Resourceful
Speak to friends and family and use social media to reach out to various people who are renovating their homes. You'll be surprised by what materials other people are throwing out! You could even head down to your local tip and see if you can find some goodies – One man's trash is another man's treasure after all.
Summary
These are just some ideas to help you get started! You really don't have to spend all that much money if you don't need to. And if you can manage to save money in certain areas, you'll be able to splash out a little bit more on that fancy vanity unit that you were eyeing up. The most important thing of all is that you're happy with the end result. If you're low on funds but long on time, then get busy restoring your bathroom on a budget!