There's much more to a television cabinet then merely mounting your TV.
Back in the day you could use pretty much anything as a television stand; all you needed was something to sit your television on and that was that. Today there is so much more to it! Especially if you're rocking a 60 inch LCD TV with a DVD/Blue-Ray player, your satellite television box, perhaps an Xbox or some other form of console, perhaps a modem for the TV and internet too. Try squeezing all of that onto one little cabinet, it never quite works out as well as you'd have hoped and you end up with all manner of wires tangled up and stressing you out.
Believe it or not, selecting a suitable Television cabinet is an important job! It isn't something you can just rush into because you've got to plan out how you're going to fit all of your devices onto it too, without it looking cluttered and messy! Then you'll need drawer space for all of your DVD's and other bits and bobs – it's an important journey, bear with me people.
Check out this delicious URBAN CHIC WIDESCREEN TELEVISION CABINET! It can comfortably fit an 80 inch television set on top of it, with plenty of room underneath for at least 3 or 4 devices to fit comfortably. It looks both rustic and tasteful with 3 quality sliding drawers that create yet even more space for all of your bits. All in all this is an excellent piece of furniture that is sturdy, handsome and built to last.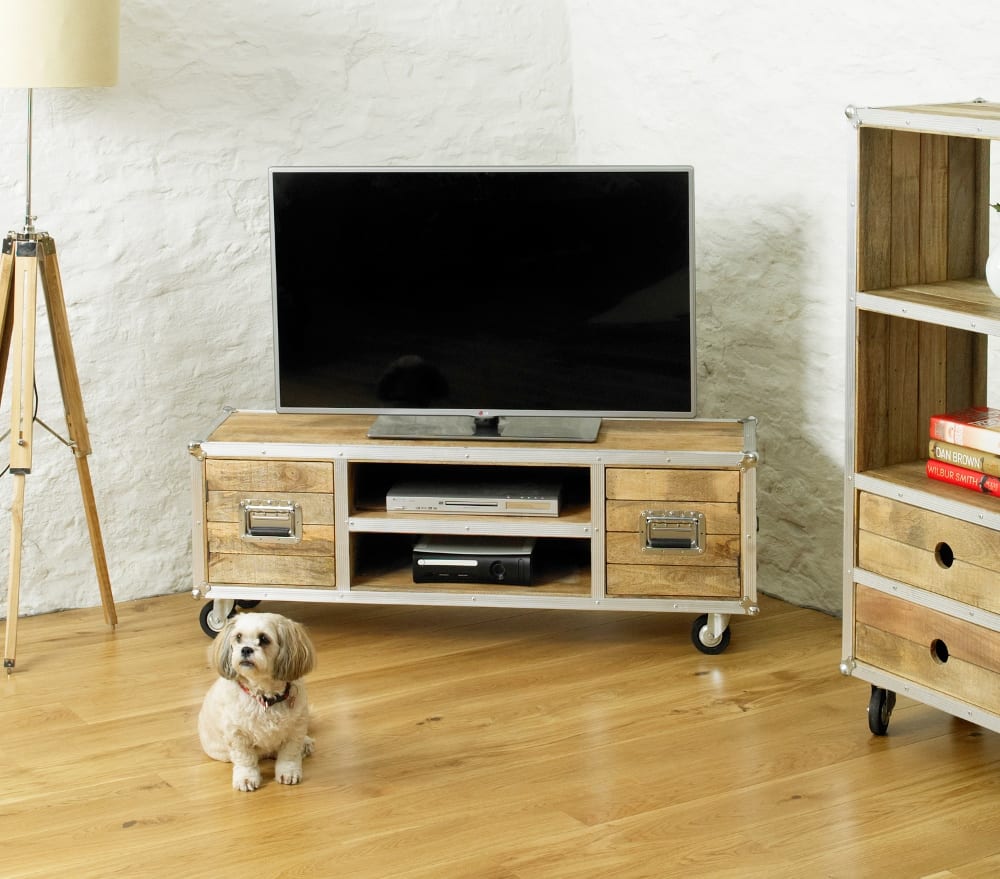 This ROADIE CHIC WIDESCREEN TELEVISION CABINET would be an amazing addition to a modern styled home. This cabinet is fashioned like a crate used for transporting musical and electrical equipment and is an incredible piece of furniture. With two drawers on either side for storing your DVD's and two shelves for your devices this piece is perfect for a smaller bedroom – Not only that but it is mounted on wheels to make it easier for you to pull out and get behind when shifting around the wires and installing another device!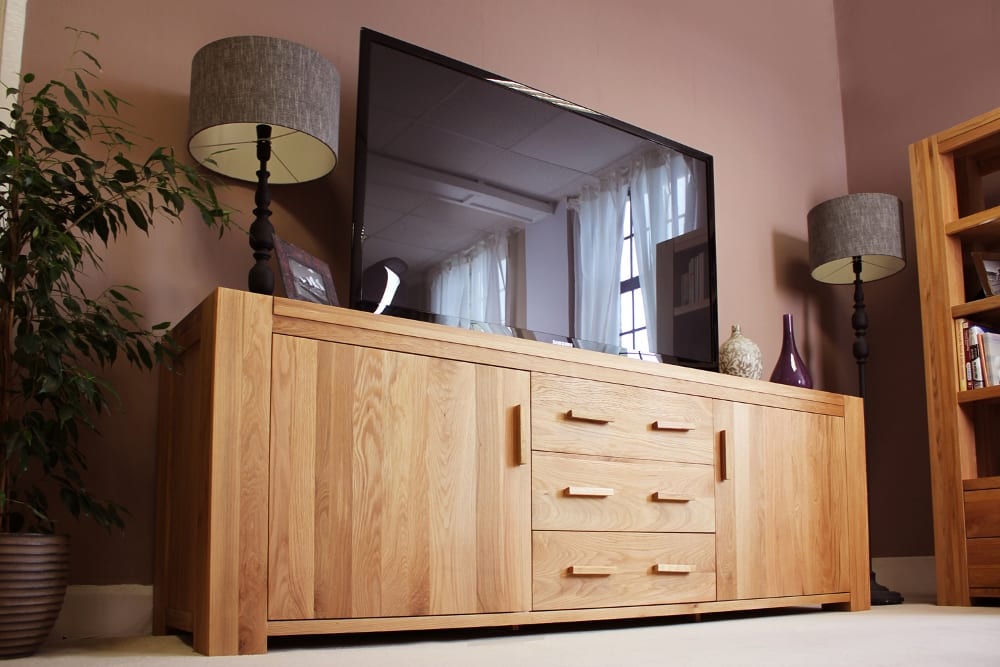 Here we have the ATLAS SOLID OAK FURNITURE LARGE TV UNIT SIDEBOARD & DRAWERS which is the perfect TV cabinet for the master bedroom or your lounge area! It has so much drawer and cupboard space that you could either use it for storing your clothes in the bedroom, or for your devices and DVDs in the lounge. It is a gorgeous piece of furniture that is both tasteful and neutral – well worth the investment if you are looking to mount a large TV, but may look to upgrade the TV size in the future. There is a great deal of room for you to mess about with.
These are just some of the various styled television cabinets for sale on our website so be sure to check all of them out and see if you can find one suitable for your tastes.